Some Iraqis who suffered debilitating injuries at the hands of extremist groups have gone on to achieve victory in the athletic field through their participation in paralympic sports.
Some have even become celebrated national champions, representing Iraq at various international games.
Among them is Najla Imad, a 14-year-old table tennis player from the Diyala provincial capital of Baquba.
When Najla was just three years old, a bomb attached beneath her father's car detonated, causing her to lose her right arm and both feet.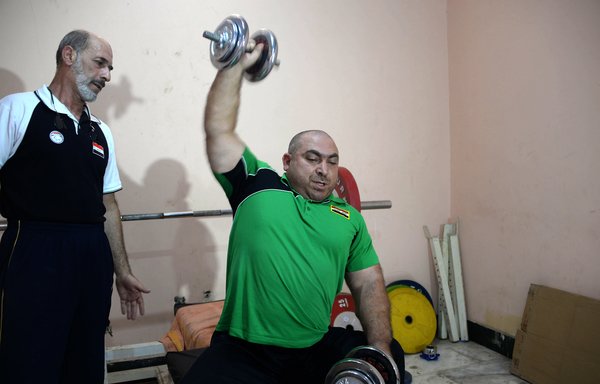 Extremist groups were likely behind the incident, according to media reports.
Despite her injuries, Najla told Diyaruna, she has gone on to achieve many victories as part of the under-16 national paralympic table tennis team.
She began training for the sport at the age of 10, and shortly afterwards won the Iraqi table tennis for the disabled championship.
Najla has since taken part in a number of other regional and international championships, including in the UAE, Poland and Thailand.
In June, she won her fourth silver and her fourth bronze medal during an international sporting tournament for the disabled in Egypt.
Najla told Diyaruna she is determined to continue her winning streak and "lift the name of Iraq high in international championships".
A Mosul champion
Mosul native Radwan Hashim, a track runner champion who lost his left hand to an improvised explosive device (IED), is one of the best-known paralympic athletes in Ninawa province.
He told Diyaruna that he decided not to use his injury as a reason to withdraw from life, and vowed to make a name for himself, despite his disability.
Hashim has represented Iraq in international tournaments, and won a third place medal in the 400-metre dash in the West Asian Championship in 2017.
He also has recorded significant achievements at the national level, including winning first place medals in the 200-metre and 400-metre dash races in the Iraqi Club Championship for Track and Field.
Hashim said he was "filled with pride" when he took third place in the West Asia Championship and raised the Iraqi flag as his country's national anthem played.
Support for athletes
National Paralympic Committee director Aqeel Hameed told Diyaruna the committee is counting on champions like Najla Imad and others to achieve important results in the 2020 Summer Paralympics.
Iraqi wheelchair fencing champion Ammar Ali is among the athletes who are expecting to compete in the annual event, which will draw athletes from 178 countries to Tokyo, Japan, between August 25th and September 6th.
Ali, a carpenter, took up wheelchair fencing after he was injured in a bomb blast in Baghdad, and went on to compete in the Paralympic Games in London in 2012, later winning the world title in Eger, Hungary.
The Iraqi committee is working to ensure athletes have the support they need for the 2020 Summer Paralympics and other competitive events, Hameed said.
"The committee is working to provide high-quality prosthetics to elite disabled athletes through the establishment of a specialised prosthetics manufacturing workshop to fill the shortfall in the supply of these items," he said.