Health
|
2019-11-06
Ninawa hospitals gradually return to service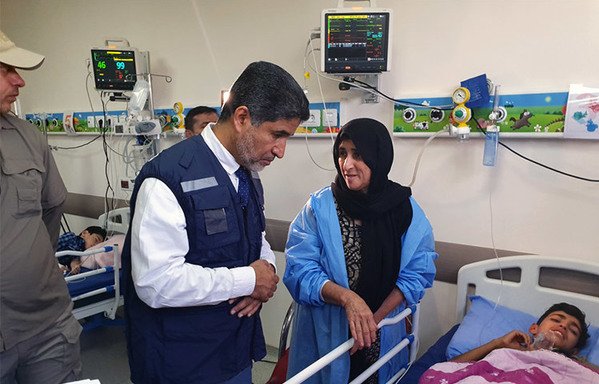 Ninawa authorities have been working to rehabilitate healthcare facilities in Mosul and elsewhere in the province that were damaged during the battle to oust the "Islamic State of Iraq and Syria" (ISIS).
Since most of the province's 20 hospitals suffered some sort of damage during the fighting, the authorities have taken temporary remedial action until they can be fully rehabilitated and returned to service.
This has included opening mobile clinics, which have helped to mitigate the problem but have not been sufficient to meet the needs of the province, which has a population of more than three million, roughly half of whom live in Mosul.
These facilities are only able to provide limited services, which means residents who need major surgery have been forced to travel to Baghdad or beyond.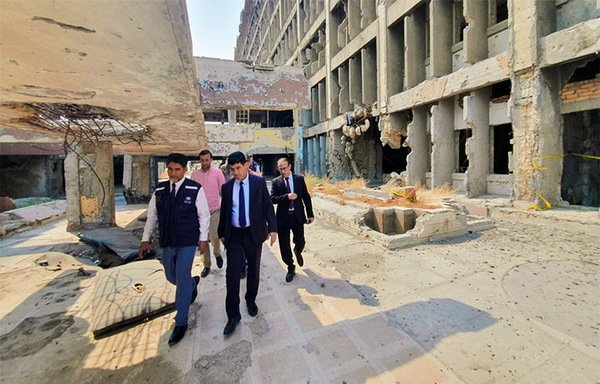 The number of hospital beds in Mosul has fallen from 6,000 to 1,700, with many of these in temporary facilities and partially damaged healthcare facilities.
Medical services in Mosul "are still poor, with no treatment available for serious medical cases", said Amjad Adnan, a Mosul resident whose son has been receiving treatment for a heart condition at Baghdad's Ibn al-Bitar Hospital.
Adnan told Diyaruna he had no choice but to travel to Baghdad with his son, but expressed hope that Mosul's healthcare facilities would soon be rehabilitated.
He said he would like to see local facilities "resume providing services to treat all medical conditions at the same level prior to the occupation of ISIS".
Reconstruction plans
The Ninawa Health Directorate has been implementing a plan to rehabilitate all of Mosul's healthcare facilities, director Jassim Ibrahim al-Mimari told Diyaruna.
"We have reconstruction plans for the medical complex in western Mosul where Ibn Sina General Hospital, the city's biggest hospital, was located," he said.
This complex suffered heavy damage, "and we are planning on rebuilding it next year at a total cost of $320 million", he said.
Reconstruction work is expected to take four years, he added, noting that the competed facility will have an expanded capacity with 600 beds -- 200 more than the original 400.
In addition to Ibn Sina, which used to treat 150,000 patients a month, the complex also houses clinical and radiology labs, a blood bank and an emergency unit, as well as specialised hospitals including al-Jumhouri University Hospital.
While work continues, a temporary facility has been opened with help from international organisations at al-Jumhouri, al-Mimari said, including a mobile hospital with a 150-bed capacity, which now provides medical services for western Mosul.
"As for eastern Mosul, through the support of the UN Development Programme, we have started a one-year rehabilitation process at Ibn al-Athir University Hospital," he said.
This hospital was partially reopened in April 2018, and will have a capacity of 400 beds when work is completed.
The authorities also are working to rehabilitate the 400-bed al-Salam Hospital that suffered heavy damage, particularly to its upper levels, al-Mimari said.
Restoring services
All of the province's health institutions were affected by the battle to oust ISIS, said Ninawa provincial council member Khidida Hammou.
After Mosul was liberated, the local government, with the help of international organisations such as Doctors Without Borders, opened health centres and temporary facilities, he told Diyaruna.
But these facilities are under immense pressure due to high patient volume, and do not have the capacity to conduct critical surgeries, he said.
Hammou stressed the need to complete reconstruction at full speed and bring large hospitals in Mosul and in districts such as Sinjar back to full capacity.
He pointed to the successful rehabilitation of al-Hamdaniya district hospital, east of Mosul, but noted that its services have not yet been fully restored.
In addition to infrastructure damage, the Ninawa province health sector has suffered from shortages in medical equipment, Ninawa provincial council member Husam Eddin al-Abbar told Diyaruna.
About 26 billion Iraqi dinars ($21 million) have been allocated to meet this shortage by providing CT and MRI scanners and to offer a variety of other tests and medication for chronic illnesses, he said.
"As for healthcare workers, things are positive but the problem of delays in running monthly payroll has caused them hardship," he said, calling for an overhaul of the health sector and an improvement of services.
0 COMMENT(S)