Members of the "Islamic State of Iraq and Syria" (ISIS) in Afghanistan are becoming increasingly split on social media over whom they consider infidels, according to a recent Telegram chat log seen by Salaam Times.
The messages, posted starting September 20th, expose rifts on whether other militant groups -- in this case, the Tehreek-e-Taliban Pakistan (TTP) -- are apostates.
The TTP, since its inception in December 2007, has had ties with the Afghan Taliban and al-Qaeda, both rivals of ISIS that compete for followers and occasionally clash.
In October 2018, the TTP issued a 12-page operation manual that included a section that declared members of ISIS's Khorasan branch (ISIS-K) to be apostates.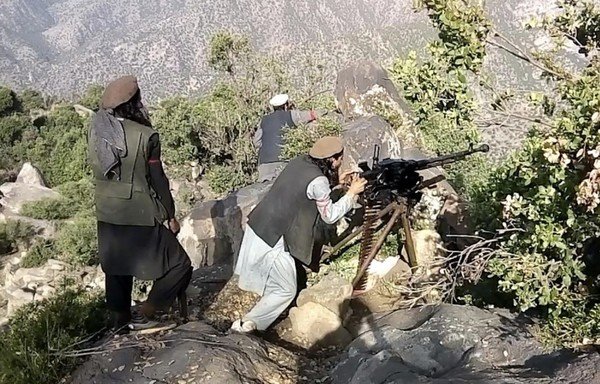 In the recent chat log, ISIS members can be seen arguing over whether the TTP are infidels.
In an attempt to quell the argument, on an ISIS-K channel user "Muhammad Bin Qasim" later published an article warning followers that the TTP are indeed apostates.
"The Apostate Taliban of Pakistan ... call the respected mujahideen [of ISIS] infidels and Kharijites, so what is the difference between the Afghan Taliban and them [the TTP]?" asked the article.
"I ask members [of ISIS] not to forget about the main goals, and do not let these hypocrites create doubts in your hearts and -- God forbid -- mislead you."
"The only thing you have to do is to leave these channels. Inform other Muslims as well of such plots, and never discuss matters brought by them," it ordered.
Users on ISIS-K groups on Telegram also regularly discuss the presence of "spies" on the channels and groups, exposing the reality that ISIS administrators are having a difficult time knowing who to trust.
Splits in ISIS-K
"ISIS leaders try to keep their members together and show that they are all united, but their conflicting opinions about declaring the Pakistani Taliban infidels and their different interpretations of Islam show that ISIS fighters have developed internal rifts," said Aminullah Shariq, a political affairs analyst in Kabul.
Abu Bakr al-Baghdadi, the leader of ISIS, was killed on October 27th in a special US operation in Syria.
"As they're calling each other infidels, it shows the group has developed feuds," said Shariq. "Additionally, the increase in air and ground operations may have widened the rifts among ISIS fighters."
"Some reports and pieces of evidence show that a number of Afghans who pledged allegiance to ISIS have separated from them because of their extremely brutal strategy," said Akbar Jan Polad, a political affairs analyst in Kabul.
"Previously, it was imagined that ISIS fighters were organised in one group under unified leadership, but the conflicting positions of the group members reveal that they are not under one leadership," he said.
"The disputes among their members mark the beginning of a split within the group," Polad added.
The disunity stems from the origins of ISIS-K members, according to Niamatullah Karyab, a representative of Kunar Province in the Wolesi Jirga (lower chamber of parliament) who previously spoke with ISIS leaders during his time as a journalist.
About 70% of ISIS militants in Afghanistan are former TTP members who joined after having been forced out of Pakistan by a continuing crackdown, according to US officials.
"A number of ISIS members insisted that the leadership of ISIS in Afghanistan be given to the Pakistani Taliban, but when ISIS fighters from Iraq, Syria, [elsewhere in] the Middle East and Chechnya came to Afghanistan, they disagreed with the view, and this was when rifts started to appear among the ISIS fighters," said Karyab.
"Most ISIS fighters and commanders who operate in Afghanistan hail from the Orakzai, Bajaur, Mohmand and Waziristan areas," he said, referring to the Pakistani tribal belt.
"I think ISIS calls the Pakistani Taliban infidels because of their [the TTP's] sympathies for the Afghan Taliban -- as we can see, ISIS and the [Afghan] Taliban are actively fighting each other," Karyab said.
Breach of ISIS principles
The September 20th chat log also shows ISIS-K members breaking the group's rules on discussing battlefield losses and sharing unauthorised content.
"Based on ISIS policy and principles, members of the group are not allowed to take a stance or express their views on social media like Facebook, Telegram and others," said Aziz Stanakzai, a military and political affairs analyst in Kabul. "Labelling each other or another group infidels and publishing unofficial photos on official pages shows a lack of unity and discipline among members of ISIS."
"Posting about the number of their casualties by ISIS members on their personal pages and expressing views about their casualties on the battlefields are instances that breach ISIS principles," said Stanakzai.
"A crackdown by law enforcement agencies in Afghanistan and Pakistan has largely weakened ISIS-K, and after the killing of most of its commanders, the group's supporters have become frustrated and are showing their disappointment on social media and instant-message services such as Telegram," said Amjad Hussain, a Karachi-based researcher who monitors the militant outfits' activities on digital media.
"ISIS-K supporters clearly violate the group's strict policy of not discussing internal rifts openly when they declare other supporters to be apostates," Hussain said.
"It seems that ISIS-K is on the verge of splintering in the region and that the infighting among its supporters on social media may start on the ground," he added.
ISIS has faced numerous setbacks in Afghanistan, and the terrorist group cannot confront security forces face to face, say Afghan authorities.
"Unlike the past few years, ISIS has been crushed ... and this group isn't now even in the situation it was in a year ago," said Fawad Aman, a deputy spokesman for the Ministry of Defence.
"As every day goes on, the level of attacks and pressure increases on them, and in just a few recent months, hundreds of ISIS fighters have been annihilated by the security forces," he said.
[Zia Ur Rehman from Karachi contributed to this report.]