Iraq's elite Counter-Terrorism Service (CTS) has arrested an "Islamic State of Iraq and Syria" (ISIS) leader who was planning terror attacks to coincide with the current demonstrations raging in the country, the CTS said Monday (November 4th).
Special forces arrested the militant, who goes by the alias "Abu Haroun", in southern Baghdad.
Abu Haroun was caught in an ambush set up by CTS forces after close monitoring of his movements, near the town of al-Mahmoudiya, CTS spokesman Sabah al-Numan told Diyaruna.
"During interrogations, the terrorist gave information about a cache that contained light weapons, stocks of ammunition, telephone chips and bombing equipment," he said.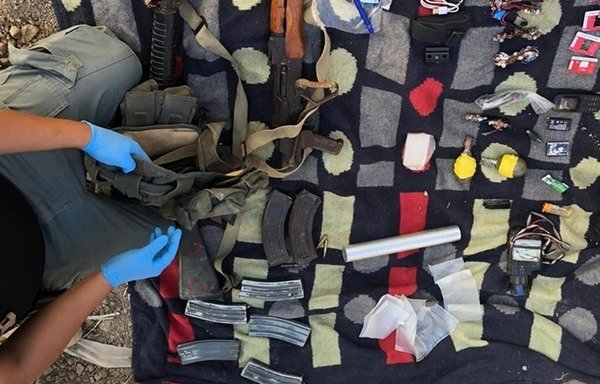 He had been planning to carry out terror attacks to coincide with the popular demonstrations in Baghdad and southern provinces "in order to turn them violent and provoke chaos", said al-Numan.
"This operation is part of a series of continuous operations to capture remaining senior ISIS terrorist leaders and prevent them from disturbing the country's security and safety," he said.
"We continue to investigate any information that could eventually lead us to discover the terrorists' hiding places and to kill or arrest them," he added.
Cracking down on ISIS remnants
A few days ago, the CTS, with air cover from the international coalition, killed four ISIS elements and captured a fifth after their hideout in a remote area in northern Diyala province was bombed, al-Numan said.
The attack is part of a "major security and intelligence effort to eliminate ISIS remnants in the areas stretching from Diyala to the provinces of Kirkuk and Salaheddine", he said.
These areas were considered to be the group's largest hotspots before they were targeted in intensive security operations, he said.
According to intelligence reports, ISIS is "experiencing its toughest time after the killing of its terrorist leader Abu Bakr al-Baghdadi", al-Numan said, noting that the CTS assisted in uncovering the ISIS chief's location.
The remaining ISIS leaders "are in a state of shock and none of them feel at all reassured; everyone is devastated and disintegrated," he said, downplaying reports that the group has chosen a new leader.
"ISIS is as good as dead, and no one will be able to revive it," he said.