It has been many years since residents of the north-eastern Diyala sub-district of Abu Saida have enjoyed security and public services as they do today, with construction in full swing amid a marked decline in violence, experts told Diyaruna.
Owing to its geographical location near dense orchards, Abu Saida, which is administratively part of al-Muqdadiya district, was the site of repeated attacks by the "Islamic State of Iraq and Syria" (ISIS) who used the orchards to hide and launch attacks on nearby villages and towns.
Similarly, sporadic sectarian attacks carried out by members of pro-Iran militias operating in Diyala province have threatened the peaceful nature of these communities in the past and incited retaliatory violence.
But Iraqi forces have largely succeeded in improving security with ongoing military operations to uproot ISIS remnants and protect the local population from militant infiltrations.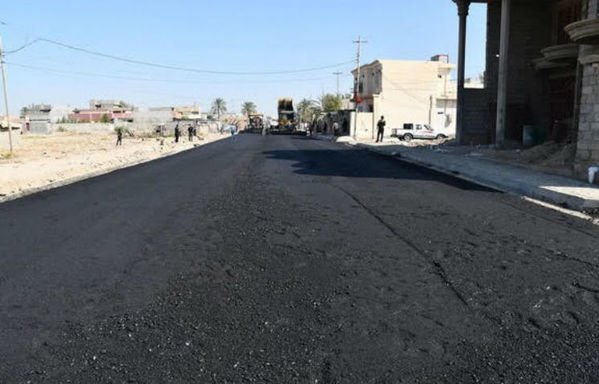 A reconstruction campaign has been underway in the sub-district and includes different service sectors, municipality director Louay Hafeth told Diyaruna.
The campaign has so far involved paving 39 main and side roads and the completion of infrastructure work in central Abu Saida and its outskirts, he said.
These efforts are funded by the federal government with a budget of over $1.3 billion Iraqi dinars ($1 million), Hafeth said.
Upholding security gains
"Abu Saida is enjoying stability and peaceful co-existence after having been turned into a ghost town for many years by ISIS," Diyala provincial council member Ahmed al-Rubaie told Diyaruna.
ISIS forcibly displaced its residents and stirred up sectarian strife, he said.
The establishment of security in Abu Saida was achieved "thanks to the co-operation of its people with security forces", he said, noting that this was the result of a series of meetings with tribal elders and local dignitaries.
The meetings focused on the importance of supporting security forces, renouncing all manifestations of sectarianism and violence and co-operating with security forces to pursue ISIS remnants in the area, he said.
Diyala's local government "is willing to do everything in its power to ensure security in the area, even if it requires requesting additional troops from other areas outside [Abu Saida]", said al-Rubaie.
While the ISIS threat remains in a small number of nearby villages, particularly in al-Mukhaisa where sleeper cells still exist, their impact on daily life and the overall security situation is negligible.
Diyala police chief Maj. Gen. Faisal al-Abadi downplayed the significance of that threat, saying security agencies carry out continuous military operations in the province's orchard areas.
"Life in Abu Saida has fully returned to normal despite the few security breaches in neighbouring villages," he said, stressing that police and army forces are keen to uphold their security gains and maintain stability in the whole province.