The recent protests in Iraq underscore growing resentment towards Iran's Islamic Revolutionary Guard Corps (IRGC) and its meddling in Iraqi affairs, officials and citizens say.
Iraqis accuse IRGC-affiliated militias of stealing and exploiting Iraq's natural resources for the benefit of Iran, contributing to unemployment, poverty and poor public services in Iraq.
This resentment can be seen in some of the slogans that protestors raised, such as "Iran goes out, Baghdad stays free".
Iran plundering Iraqi resources
"Iran is responsible for our deteriorating living conditions and public services," a Baghdad resident who participated in the protests and requested anonymity told Diyaruna. "Their militias are plundering our country and the only beneficiary is the Iranian regime, which is consolidating its power with our money."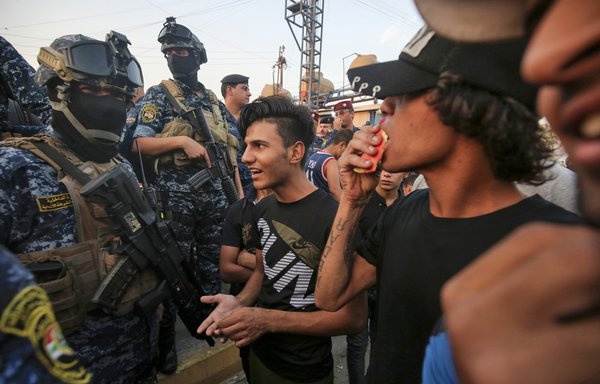 "The protests have expressed significant public resentment towards Iran's influence and its constant threat to the stability of the country and its economy," he said.
"Our message to the Iranians and their agents is clear: stop your meddling in our affairs and let us live in peace and build our country," he said.
The protests erupted in Baghdad October 1st and lasted a week, spreading also to the southern provinces.
A total of 157 people were killed and at least 6,000 were wounded during the protests, sparking a political crisis President Barham Salih said required a "national dialogue".
In an extraordinary session October 8th, parliament passed an initial reform package to address the protestors' concerns. A second reform package is scheduled to be discussed in the next session of parliament.
The government has officially designated those killed as "martyrs", granting their families a special set of benefits.
Condemning Iranian meddling
"In the most recent demonstrations, protestors expressly condemned Iranian infiltration and meddling in their affairs via the IRGC and its agents," said Hilal al-Obaidi, an Iraqi expert in international relations.
"Slogans of condemnation raised by protestors revealed rising anger from Iraqis against Iranian influence and the compounding effect of the armed groups supported by Iran that are stealing the wealth of the people, impoverishing them and drowning them in unemployment, corruption and poor public services in favour of Iranian interests," he told Diyaruna.
Youth unemployment in Iraq has reached around 25%, according to the World Bank.
"Iraqis know too well the Iranian regime's intentions and that its only objective is to harm their country's security and stability and undermine its sovereignty," he said.
Conditions in the region threaten to explode at any moment, especially following the Iranian aggression against the Saudi oil company Aramco at the end of September, al-Obaidi said.
What Iran is doing in Iraq can also be said about the region as the Iranian regime continues to stir up problems in Syria, Lebanon and Yemen, he said.
Iran "is still trying to influence the security of its neighbours by using loyal sectarian groups that it trains and supplies with sources of power to destabilise the region and impose its hegemony", he added.
Iran seeking to divide the Iraqi people
Iranian leaders hope to drive a wedge between the Iraqi people and their government by giving free rein to IRGC affiliated militias to violently quell protests, observers say.
"People in the region are convinced and aware of the Iranian regime's intentions and its efforts to undermine their sovereignty and the stability of their country," said former Iraqi MP Mithal al-Alousi.
"This regime is determined to even drag its own people in conflicts and implicate them in provocative policies against their neighbours that will only result in more problems and economic disadvantages," he told Diyaruna.
"The IRGC is resorting to destructive activities that affect regional security by bolstering armed groups in order to destabilise countries and attack their economic and political interests," he said.
Iraqi protests confirm that Iraqis want an end to Iranian influence and the independence of the Iraqi political system, so that real reforms can address corruption, rising unemployment and declining public services, al-Alousi said.
"The anger of the Iraqi people in the face of Iranian intervention is on the rise and this is clear as slogans are repeated condemning this intervention with every demonstration that is staged by Iraqis demanding that their conditions improve," he said.
Calls for peaceful protests
Calls have been made on social media for fresh rallies on Friday (October 25th), the anniversary of Prime Minister Adel Abdul Mahdi's government taking office, AFP reported.
"It's your right to participate in protests," influential Iraqi Shia leader Moqtada al-Sadr told his followers in a Facebook post October 19th.
He qualified his support by adding, "Those who don't want to take part in this revolution can choose another via the ballot box in internationally supervised elections and without the current politicians."
He called on his supporters to protest peacefully.
"They expect you to be armed," he said. "But I don't think you will be."