Iranian threats to turn Iraq into a battleground where it settles its scores have met with resounding rejection from Iraqi citizens and lawmakers, who tell Diyaruna they want Iran to stop meddling in Iraqi affairs.
In a televised September 26th speech, Iranian Ambassador to Iraq Iraj Masjidi, a former Islamic Revolutionary Guard Corps (IRGC) general who served as an adviser to Quds Force commander Qassem Soleimani, issued a threat to the US.
If Iran is attacked by the US, he said during an interview with Iraq's Dijlah TV, Iran will bomb US forces anywhere they are present, including Iraq.
Additionally, he said, an Iranian response to such an attack would include a response from "those who love Iran" such as Iran-backed Iraqi militias fighting under the auspices of the Popular Mobilisation Forces, Hizbullah or the Houthis (Ansarallah).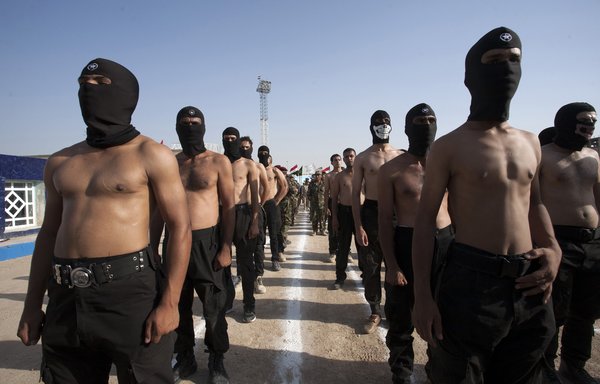 The Iraqi response to the Iranian threat came back swiftly.
"Iraqi territory is a red line," said Iraqi Ministry of Defence spokesman Maj. Gen. Tahseen al-Khafaji, stressing that Iraq "will not allow US interests on its soil to be targeted".
Additionally, he said, Iraq "will not be a launchpad for aggression against neighbouring countries".
On October 3rd, the Iraqi Foreign Ministry summoned the Iranian ambassador in objection to his threat against US forces operating under Iraqi authority as part of the international coalition.
These forces have been providing training and advice to Iraqi soldiers in their ongoing battle against the "Islamic State of Iraq and Syria" (ISIS).
Iranian threats to destabilise Iraq
Former Deputy Iraqi Foreign Minister Abdul Kareem Hashim Mustafa said Iraq must not be used as a "corridor or base for staging any aggression that harms neighbouring countries or friends of Iraq in the region and around the world".
Iraqi MP Taha al-Lahibi said he "categorically rejects" Masjidi's statements, pointing out that with pronouncements like this, Iran is continuing its threats to destabilise Iraq and jeopardise its security.
The Iranian regime is yet again proving that "it cares little for diplomatic norms and international conventions and treaties that respect the sovereignty of countries", al-Lahibi told Diyaruna.
Instead it continues to interfere in their internal affairs and their right to self-determination, he said, adding that the Iranian regime insists on "harming Iraqis and endangering their lives by violating their sovereignty".
The Islamic Republic has been attempting to turn Iraq "into a stage for score-settling and aggression against regional countries and interests", he said.
Militias used as pawns
Al-Lahibi noted that the IRGC's support for Iraqi militias intends to stir tensions in Iraq and drag the region into "wars, violence and sectarian conflict".
"Iran's agents and arms in Iraq have to realise they are serving a regime that is killing the Iraqi people and that they are being used as fuel to burn down the country and the region," he said.
"Their defence of this regime and its interests should stop," he added.
According to political analyst Alaa al-Nashou, Masjidi's statements "prove that Iran does not view Iraq as an independent country that makes its own decisions".
The Iranian regime has been working for years to undermine Iraq's will and sovereignty, and to attempt to control its decisions, he told Diyaruna.
The threat to US forces, international missions and interests in Iraq and neighbouring countries posed by the IRGC and its affiliates is part of Iran's policy of "manufacturing chaos", al-Nashou said.
This serves the Iranian regime's goal of easing economic pressure on Iran, he said.
Iraqis object to Iranian interference
Al-Nashou pointed to Iranian efforts to weaken Iraq and adversely affect its institutions, particularly its security and military apparatus, while strengthening its own militias and encouraging them to defy government decisions and orders.
"Iraqis have always expressed their rejection and annoyance with Iran's subversive activities and relentless movement to destabilise their country and lead it towards war, conflict and unrest," he said.
Political analyst Adel al-Ashram Ibn Ammar, chairman of al-Shimmar Syndicate of Tribal Intellectuals, condemned any violation that undermines Iraq's sovereignty, expressing his categorical rejection of the latest Iranian threat.
"This is a dangerous precedent at the level of diplomatic relations," he told Diyaruna, noting that it is a "flagrant expression of Iran's efforts to destroy and take control of Iraq".
"The latest Iraqi protests reflect public resentment of Iranian intervention and their militias that are meddling in the country's security, stealing its resources and spreading chaos and destruction throughout the country," he said.
A Baghdad resident who identified himself simply as Abu Ali told Diyaruna he was supportive of his government's efforts to defend its sovereignty and prevent interference in its affairs.
"We object Iranian threats and stand by any government action in this regard," he said.
The Iraqi people "are fed up with Iranian infiltration and do not want to be involved in proxy wars, whose price is dearly paid with the blood of Iraq's people, its economy and its future", he added.