Iraq's Counter-Terrorism Service (CTS) has foiled an "Islamic State of Iraq and Syria" (ISIS) plot to carry out terror attacks south of the capital, CTS spokesman Sabah al-Numan told Diyaruna Wednesday (October 2nd).
Through its intelligence effort, the CTS obtained information regarding ISIS's intention to launch terror attacks south of Baghdad, he said.
A CTS force, in co-ordination with army units, carried out a search operation Tuesday that resulted in the seizure of 750 kilogrammes of TNT placed inside 20 bags and buried in agricultural land in the area of al-Latifiya, he said.
The explosives had been compiled by terrorists "in order to make improvised explosive devices (IEDs) that will be used against civilians", he said, noting that the stockpile has been confiscated and destroyed.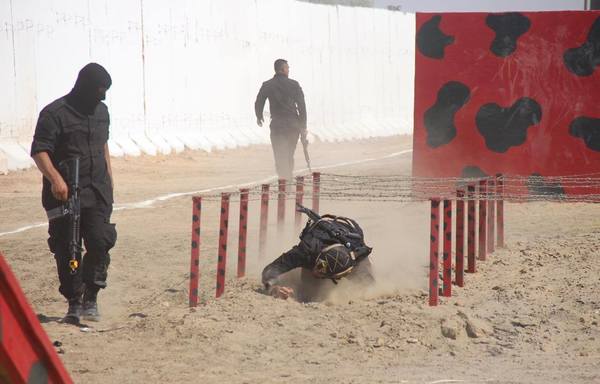 Intelligence efforts pay off
The operation is the latest in a series of "quality operations" that have led to the killing and arrest of terror leaders and the destruction of their weapon caches and hideouts, al-Numan said.
"We are acting in light of information received from our intelligence sources, in great co-ordination with the other security services and leaders," he said.
This year, with the support of international coalition aircraft, the CTS carried out "devastating attacks" on terrorist targets through aerial landings and concentrated bombing of their hideouts and transport and supply routes, he said.
"Our attacks have been accurate, focused and targeted a range of sites, including numerous areas in the desert of Anbar, the Iraqi-Syrian border, al-Sharqat Island, the hills of Ninawa, southern Kirkuk and Hamreen hills," al-Numan said.
He attributed the success of these missions to the "development of intelligence work and the continuous training of the CTS personnel in the latest combat tactics".
A team from the international coalition has been helping CTS forces acquire the skills they need to engage the enemy, land on hostile targets, fight in complex environments and free hostages, he said.
The CTS has also received "modern weapons" that are suitable for carrying out its duties, Numan added.