An outbreak of violence instigated by radical female "Islamic State of Iraq and Syria" (ISIS) elements inside al-Hol camp in Syria's al-Hasakeh province has been successfully contained, a Kurdish Red Crescent official said.
Security incidents have been on the rise in the crowded camp, which houses families of ISIS fighters among its 70,000 residents, with foreign women and their children separated from Syrian and Iraqi inhabitants.
In the latest incident, one woman was killed and six were wounded in the sector reserved for foreign women, a Kurdish official said, declining to be named.
Security forces detained 40 women from the foreigners' section at the camp.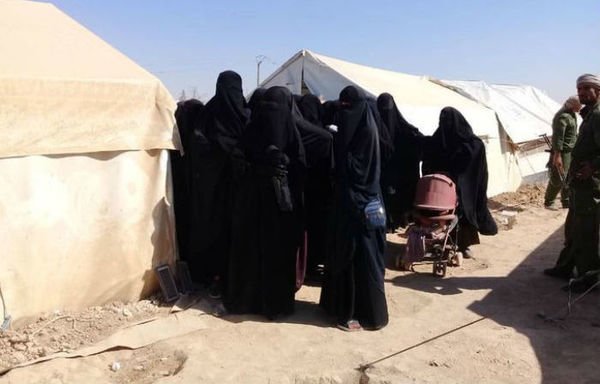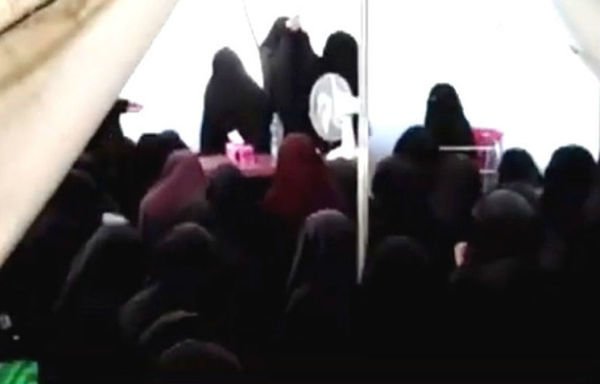 The latest riots were staged by ISIS women or muhajirat ("immigrant women") who had formed a hesba ("religious police") unit, Kurdish Red Crescent official Azad Dudeki told Diyaruna.
This is a vigilante group that has sought to hold other women inside the camp to account for breaking ISIS rules or attempting to break ranks, he said.
An investigation is under way to identify the women who instigated the riots and attacked those who attempted to flee the area of the camp they controlled, he said.
The women also attacked the Asayesh (Kurdish security forces) charged with guard duty, he added.
"Tensions flared when the body of a woman was found inside the camp," Dudeki said, "and it appeared she had been subjected to torture."
According to the unnamed Kurdish official, the woman had been stabbed to death by ISIS women who had set up "courts" to try their peers.
The ISIS women did not stop at attacking women in the camp, Dudeki said, noting that they also attacked security personnel with sharp objects.
Two women who were attacked and injured by the hesba unit managed to reach a safe area in the camp and were taken to a medical centre outside the camp to be treated for the injuries they sustained, he said.
A hotbed of radical ideology
Dudeki said the riots were to be expected, as the camp is overcrowded and houses a large number of women who are imbued with ISIS ideology.
The situation inside al-Hol is "deteriorating sharply", Syrian Democratic Forces (SDF) spokesman Mustafa Bali said Monday (September 30th).
"ISIS militants have stepped up their regrouping efforts through women in the camp recently," he said in a social media post.
The UN Office for the Co-ordination of Humanitarian Affairs said "tensions remain high in the camp with security incidents reported on a weekly basis".
"They see us as enemies, and that creates problems," Asayesh head Amer Ali said of the ISIS women inside the camp.
ISIS wants "to spread its ideology through these women", he said, adding that children too are a problem.
"We do not have the means to stop everything that is happening, but we try to contain these incidents," said Sheikhmous Ahmed, a Kurdish official.
ISIS supporters "remain attached to their ideology, and they will always represent a danger", Ahmed warned.
In March, the SDF ousted ISIS from the last strip of territory it held in Syria.
Tens of thousands of people, mostly women and children, were trucked to Kurdish-run camps in north-east Syria during the weeks-long campaign.
In total, some 12,000 foreigners -- 4,000 women and 8,000 children -- are now living in such camps, according to Kurdish authorities.