Iraqi forces are ramping up security operations to crack down on "Islamic State of Iraq and Syria" (ISIS) remnants in Wadi al-Shay and establish full control over the remote area in southern Kirkuk province, Iraqi officials told Diyaruna.
The area, which is locally known as the valley of death, has been a haven for ISIS elements following their defeat in Kirkuk's al-Hawijah district two years ago.
The commander of the 19th Brigade of the federal police, Col. Ali Ahmed al-Ajaili, said his forces are conducting "exceptional and outstanding work" to secure Wadi al-Shay.
"We have implemented several measures that aim at securing the area and countering any terrorist threat to the villages located near the valley," he told Diyaruna.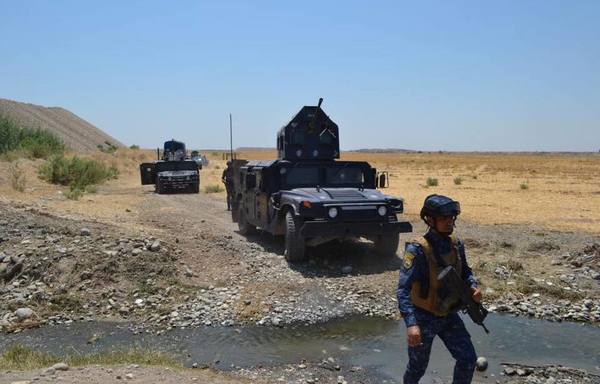 "We razed the trees and bushes over an 18-kilometre stretch from Tal Hamma village towards the Daqouq bridge in order to maintain clear vision of the area we need to surveil," he said.
Thermal cameras have been installed to monitor unusual movement and the target area on a constant basis, he added.
Forces have been deployed to 12 hills overlooking Wadi al-Shay, he said, noting that intensive security operations are under way to hunt down ISIS remnants and search their guesthouses and weapons caches in the valley.
Over the past three months, the forces have killed more than 10 militants and arrested dozens more, including ISIS commanders, he said.
These include six ISIS elements arrested early September who were part of a dangerous cell and whose leader made some important confessions about their activities, according to al-Ajaili.
Vast terrain
"Enemy remnants are spread out across the valley and moving in groups of between 25 to 40 people," he said.
They are using evasion tactics, taking advantage of the vastness of the valley and thick natural vegetation in that area, he said.
"However, we are strongly confronting them and preventing them from making any gains," he stressed.
Wadi al-Shay has been the scene of several high-profile operations by the elite Counter-Terrorism Service (CTS) and international coalition this year, resulting in the deaths of senior ISIS leaders.
A network of old tunnels and underground passageways used by ISIS to hide, move and use as supply routes also have been destroyed.
ISIS elements who survived the liberation battles in al-Hawijah "found in Wadi al-Shay a safe haven", said Daqouq district mayor Louis al-Obeidi.
The area is vast, stretching from the Hamreen Hills and al-Atheem in Diyala province to southern Daqouq district towards the administrative border of Kirkuk with Salaheddine province, he told Diyaruna.
"The valley is known for its abundance of reeds, bushes, burrows and naturally formed tunnels, which has made it a suitable shelter for terrorists," he said, especially that nearby villages have been completely uninhabited since ISIS occupied al-Hawijah in 2014.
These include the villages of Tal Eida and Sammaka.
"Police, army and CTS forces are now exerting tremendous effort to eliminate terrorist elements and maintain security in the valley," al-Obeidi said.
"The activities of ISIS elements are on the decline in Wadi al-Shay as a result of the continuous security operations there," said Burhan al-Assi, deputy chairman of the Kirkuk provincial council security committee.
Incentivising civilians to return and settle back in their villages and resume farming will further serve as a deterrent for ISIS remnants to be active in the area, he told Diyaruna.
"The return of the local population is key to ensuring stability not only in Wadi al-Shay but throughout Kirkuk," he said.