Despite the Iraqi army's efforts to end cross-border smuggling, some militias have continued to engage in this illegal activity by transporting oil derivatives to regime forces and allied militias in Syria, Iraqi officials and analysts said.
The smuggling is being done by Iran-backed Iraqi militias operating under the auspices of the Popular Mobilisation Forces (PMF), they said, noting that these militias have taken advantage of that association, using the PMF as a cover.
Officials and analysts who spoke with Diyaruna noted that some of these militias have close ties to Syrian regime forces stationed in al-Tanf and Albu Kamal, directly across the border from al-Qaim in western Anbar province.
One of the Iraqi army's main responsibilities is to "prevent illegal smuggling across the border", said Maj. Gen. Qassim al-Mohammadi, who heads al-Jazeera and al-Badiya Operations Command.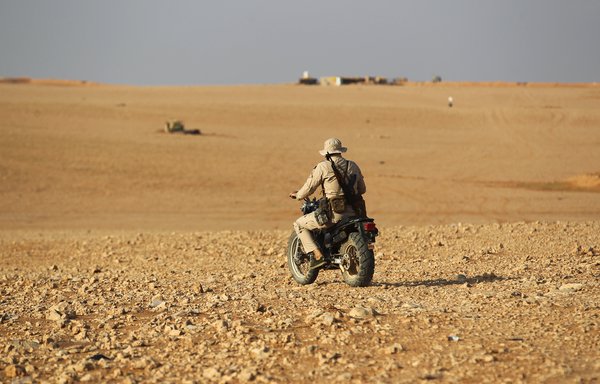 This is second only to pursuing ISIS remnants and blocking their attempts to infiltrate into Iraq from Syria, he told Diyaruna.
Al-Mohammadi said there have been a large number of arrests in recent weeks connected with the smuggling of various items between Iraq and Syria, including electrical equipment, vehicle engines, oil derivatives and medicine.
Cross-border smuggling
Fuel in the al-Qaim area has been scarce, because militias in Iraq have been smuggling it into Syria, a member of al-Qaim's local council told Diyaruna.
Oil derivatives are being transported across the border "using PMF personal IDs and vehicles", the council member said, requesting that his name not be used.
The Iraqi Ministry of Oil sends state-subsidised fuel to gas stations in al-Qaim, Husaybah and the Kilo-160 area, the local official said.
A portion of this fuel is being set aside, however, and is being loaded onto tanker trucks belonging to PMF militias aligned with the Iranian regime and transported to Syria, he said.
He noted that the price of a litre of government-subsidised gasoline in Iraq is 450 dinars ($0.40), while the militias are selling it in Syria for up to $1.50.
"Some of the gasoline goes to regime forces and not only traders on the Syrian side," he said.
Kataib Hizbullah, Harakat al-Nujaba and Sayyed al-Shuhada are the main militias involved in smuggling operations to Syria, in co-ordination with Syrian regime forces on the other side of the border, he said.
These militias move freely because they carry PMF identity documents, he said, and use vehicles with free passage permits, so they are unlikely to be stopped.
They take advantage of the PMF "to commit their crimes and carry out illegal operations and activities to support the [Bashar] al-Assad regime or fill their own coffers by smuggling oil derivatives from Iraq to Syria", he said.
Fuel shortages in al-Qaim
"We are waiting for fuel tanker trucks to arrive from Baghdad and unload their fuel at gas stations," al-Qaim resident Riyad al-Karbouli told Diyaruna.
They usually arrive every third day to fill up the tanks at gas stations, he said.
"However, for some time now they have been carrying only half or a quarter of their capacity, amid talk that the militias are seizing a large portion of our share and selling it in Syria after transporting it there," he said.
"We are concerned that the situation could remain unchanged until the winter, at which time the militias could smuggle kerosene used for heating and thus create a bigger problem than the current queues at gas stations," he added.
According to strategy analyst and Ninawa native Muayed al-Juhayshi, the militias began to conduct smuggling operations between Iraq and Syria many months ago.
The smugglers are motivated by the need to finance these militias or to support the Syrian regime, he told Diyaruna.
"Their presence on the other side of the border, in Syria, facilitated their smuggling operations, which are not limited to oil derivatives but also include various goods and materials, including narcotics," he said.
In an August 6th statement, the Iraqi Ministry of Defence said it had foiled the smuggling of a large quantity of spare parts for Hummer military vehicles into Syria that were worth millions of Iraqi dinars.
The truck carrying the spare parts was apprehended in al-Shamal in Iraq's Sinjar district, the statement said, adding that the material intended for smuggling was handled according to the procedures in force in Iraq.