Earlier this year, the Iraqi government announced it planned to increase the number of Ninawa province families enrolled in a social support programme.
Since then, it has enrolled close to 40,000 Ninawa families affected by "Islamic State of Iraq and Syria" (ISIS) violence into the programme, Ninawa provincial council member Hiyam Abdal told Diyaruna.
The programme offers monthly allowances of up to 420,000 Iraqi dinars ($350) for each eligible family, including internally displaced persons (IDPs), orphans, widows, individuals with disabilities and families of missing persons, Abdal said.
This support has helped to "significantly alleviate" the suffering of these families and to improve their living conditions, she added.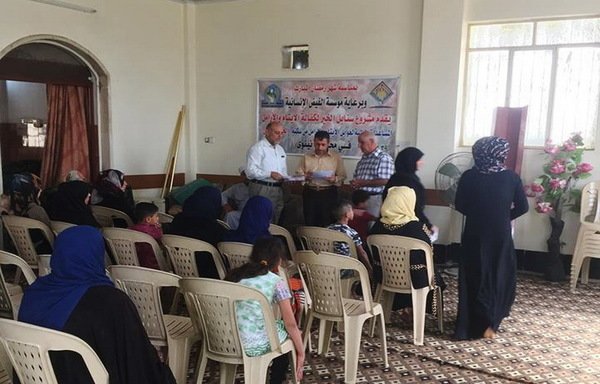 Programme administrators also have been working to resolve the issue of some families who had been previously registered into the programme but were not receiving their monthly allowances.
In some cases, Abdal said, payments had been stopped after the death of the head of the household or the designated payee, but this has now been resolved.
Abdal stressed the importance of providing aid for additional families who suffered hardship at the hands of ISIS or as a result of the group's incursion.
"We hope the government is able to register an additional number of poor and affected families as beneficiaries of the safety net," she said.
Insufficient funds
The battle to oust ISIS left lasting humanitarian consequences on the local population, Abdal added, noting that it is important to support these people and ease their burden as they work to overcome this hardship.
"The poor and those affected by terrorism now represent the largest segment of the Ninawa population, due to the barbaric crimes committed by ISIS," Ninawa provincial council member Hussam Eddin al-Abbar told Diyaruna.
There are currently 15,000 widows and 33,000 orphans in the province, he said.
Due to the large number of impoverished people, he said, government authorities and civil society organisations must work together to provide them with financial assistance, education, health and housing services.
He called on the government to allocate sufficient funds to help the people of Ninawa face these challenges, pointing out that the allocated funds "do not cover the needs of all poverty-stricken and financially vulnerable families".
Support for orphans
Ninawa provincial council chairman Saido Chato confirmed that the government has been supporting impoverished families in the province through the social protection programme.
But he called for widening that support by "including thousands of other families into the programme" and offering payments that help them shoulder their financial burden, noting that the ISIS era left many without jobs.
"Orphans are among the most deserving segments of support," Chato said.
Two orphanages in Mosul -- al-Zuhour and al-Baraem -- have been reopened, he said, in addition to several other orphanages throughout the province, including facilities in al-Shaikhan and in Sharaya and Khanek residential complexes.
"We are working to support charitable organisations providing a healthy environment for all orphans and helping all poverty-stricken segments of the population and those that were affected by terrorism," he said.
"We have plans and programmes in place to support these groups, and we hope to achieve even more progress in securing their humanitarian needs," he added.