Four "Islamic State of Iraq and Syria" (ISIS) elements have been killed during security sweeps of the Anbar desert, an Iraqi tribal force commander said Monday (September 23rd).
Over the last two days, joint tribal, army and intelligence forces have carried out several security missions to comb the desert in western Anbar, Col. Mousa Hamad al-Karbouli, head of the Upper Euphrates tribal force, told Diyaruna.
They covered large areas in the upper Euphrates, close to the Iraqi-Syrian border, that include Bunyan Sahali, al-Kaara, Mudaisis, al-Manieyat and western Wadi Houran, he said.
The joint forces killed four ISIS elements who had been hiding in rest-houses deep in the desert, al-Karbouli said.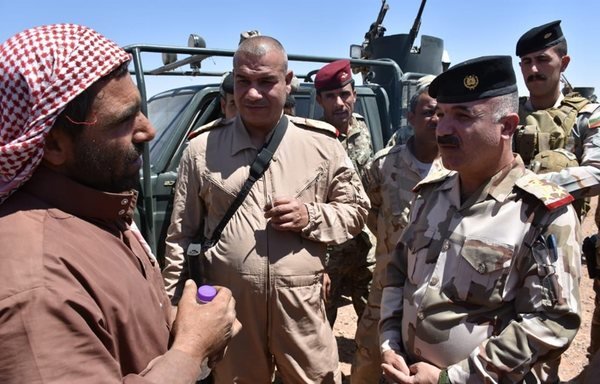 "The search also led to the discovery of several secret terrorist hideouts, some of which contained foodstuffs and household equipment, while others were used for weapons and fuel storage," he said, adding that cars and motorcycles were also found at the hideouts.
One of the weapon caches included a large number of thermal missiles, rocket launchers, machine gun and pistol ammunition, and explosives, he noted.
"These items were extracted and handed over to the intelligence services for destruction, while all the hideouts were destroyed and burned down," he added.
Preserving military successes
These security missions are aimed at "preserving the security successes achieved in the 'Will of Victory' security campaign" and preventing terror remnants from regaining a foothold in isolated desert areas, al-Karbouli said.
"We operate like a beehive, in high co-ordination with the rest of the military and intelligence forces," he said, adding that the tribal forces also maintain good relations with local residents who provide intelligence tip-offs.
"Over the last few months, we have inflicted heavy losses on the enemy, killing and detaining dozens of terrorists, most of them wanted leaders of ISIS," he said.
"Many rest-houses and ammunition and weapons caches have been completely destroyed, and remote villages and desert areas have been secured," he added.