Bridges and roads destroyed during the battles to oust the "Islamic State of Iraq and Syria" (ISIS) from Anbar have been rebuilt as part of a massive reconstruction campaign in the province, the local government said.
Iraqi engineering and technical personnel have now completed the reconstruction of 74 bridges across the province, Anbar provincial council member Farhan Mohammed said Wednesday (September 11th).
The bridges were damaged or destroyed during the fighting or through acts of sabotage carried out by ISIS as Iraqi forces closed in on them, he told Diyaruna.
Bridge reconstruction work began immediately after the group's expulsion from the province at the end of 2017, and bridges have been reopening on a rolling basis ever since, he said.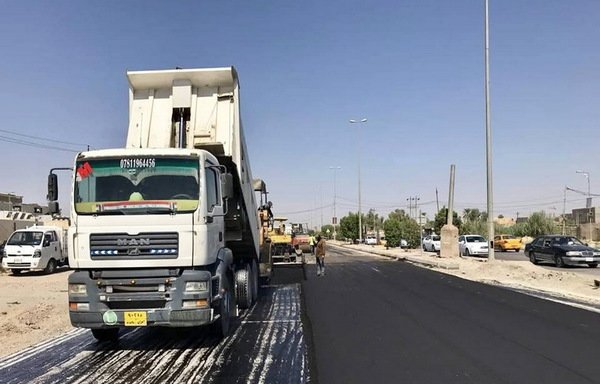 Rehabilitated bridges include the Japanese, Palestine, Omar bin Abdul Aziz, al-Qasim and al-Hawz bridges in eastern Anbar, as well as dozens of bridges west of Ramadi up to al-Qaim near the border with Syria, Mohammed said.
"We have 40 destroyed bridges left, a large number of which are currently undergoing rehabilitation by Iraqi engineering and technical personnel," he said, noting that some projects have been handed over to specialised companies.
If all goes to plan, he added, these will open at the beginning of next year.
Repairing the road network
Important steps also have been taken towards the reconstruction of the main and secondary road network in the province, Mohammed said.
"Several strategic roads connecting the cities of Anbar have been reopened, most notably the Ramadi-al-Karma road," he said.
This has been converted into a two-lane road with lighting, trees and signage, "comparable to the Anbar international highway", he added.
Additionally, he said, "the reconstruction plans have included roads inside the cities, including the 40th, 60th and 100th streets west of Ramadi in the direction of the Kilo-7 area, and many streets throughout Anbar districts".
"The progress of construction in the bridges and roads sector is due to several factors, most importantly, the co-ordinated work between the central and local governments and the support provided by international organisations," he said.
Erasing signs of devastation
The UN Development Programme and the World Bank have given valuable support to Anbar's reconstruction projects, along with the Iraqi fund for the reconstruction of areas affected by terrorism, Mohammed said.
"The security and stability that prevails in the province, thanks to the great efforts exerted by security and tribal forces in securing cities and the desert against the terrorist threat, is the cornerstone of the reconstruction campaigns," he said. "The scenes of reconstruction are clearly visible on Anbar streets."
The province has "begun to erase all the devastation it has suffered", he added, pointing out that the people of Anbar are proud of the visible progress towards reconstruction and are determined to continue to move forward.