Iraqi models and clothing designers recently took part in a fashion show at al-Habbaniya Tourist City -- the first such event in Anbar since the "Islamic State of Iraq and Syria" (ISIS) overran the province in the summer of 2014.
The August 18th show at the Babylonian Theatre offered a sharp contrast to the days when ISIS imposed its harsh interpretation of sharia on the public and meted out punishments to those who did not adhere to its rigid dress code.
"The return of security and stability to Anbar and the co-operation of citizens with security agencies in maintaining security in the liberated areas contributed to the return of cultural, literary and artistic activities," Tourist City director general Mouayed al-Mashouh told Diyaruna.
These included the recent fashion show, he said, which showcased women's and children's fashion, "featuring models from all provinces and fashion designs by Iraqi designers that keep step with modernity".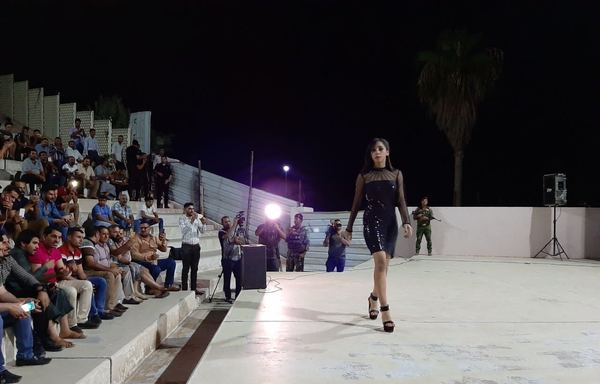 "The fashion show was a great success," he said, pointing to the high turnout.
"The return of stability has contributed to the return of life and cultural activity," he added, noting that artistic activities and events were absent from Anbar when ISIS controlled the province.
In addition to the clothing, he said, the fashion show was accompanied by music, with performances from Anbari ensembles welcoming the attendees.
Tourist activity returns
The fashion show was staged with the support of the local government, said Ali al-Fahdawi, adviser to the governor of Anbar province on cultural affairs.
The local government supports "all activities that represent peace, literature and culture and serve the citizens of Anbar", he told Diyaruna.
"The fashion show held in al-Habbaniya's Tourist City is the first of its kind and it featured fashion models, including women and children, who presented clothes designed by a number of [Iraqi] designers," he said.
Two of the designers, Mayyar al-Ameri and Hind al-Iraqi, presented clothing "that blended tradition with modernity", he said.
"ISIS is finished," he declared, noting that "one victory after another is currently being achieved in Anbar, which is witnessing a flurry of construction and literary and cultural events, art exhibits and theatrical works".
Artistic activities were forbidden when ISIS was in control of Anbar, he said.
"Tourist and entertainment activity has returned to al-Habbaniya resort, and the Babylonian Theatre and the gardens are being used once more for seminars, conferences and extensive artistic and cultural events," he said.
'Huge demand' for fashion
"My participation in the first fashion show in al-Habbaniya Tourist City came at the invitation of al-Habbaniya administration, and my work consisted of fashion designs for evening and occasion-wear for women," designer al-Ameri told Diyaruna.
"There is a huge demand for fashion shows in Anbar, and we have requests for additional shows in Ramadi and other areas," she said.
"We were asked to produce the clothes that were liked by Anbari women and families, including [traditional Iraqi] sayas and evening-wear," she said.
"The fashion show was very successful and featured a number of models from a number of provinces," said Samah Hussein, who was one of the models.
"It was a great achievement for our beloved Anbar," she told Diyaruna.
"The musical accompaniment gave a flavour and aesthetic value to the show's runway presentations," she added, noting that "there is a plan for a larger fashion show to be held near Lake Habbaniya".
"We were encouraged to expand the shows to other provinces, which is an indication of the project's success," she said.
"I came to al-Habbaniya to attend the show with my family after seeing an ad on social media," said Ramadi resident Khamis Saleh. "The turnout was high and the presentations were outstanding."
"We hope there will be expanded shows in the near future," he told Diyaruna.