Protests
|
2019-09-04
Idlib protesters decry regime, Tahrir al-Sham
By Waleed Abu al-Khair in Cairo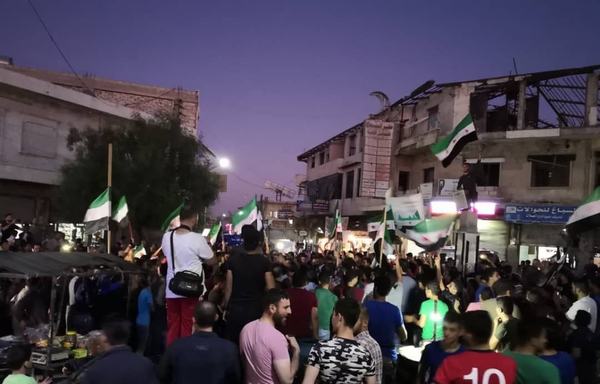 Caught between advancing Syrian regime forces on one side and extremist alliance Tahrir al-Sham on the other, residents of Idlib province assembled in a number of towns to stage demonstrations against both, a Syrian activist said.
"A number of demonstrations were staged in several cities and towns in Idlib and its rural areas to protest against the regime forces' advance into the area," Maarat al-Numan activist Hani al-Numan told Diyaruna.
The regime advance has triggered a wave of displacement, he said, sending civilians fleeing for the relative safety of the province's interior.
But it is not just the regime advance that has provoked public anger.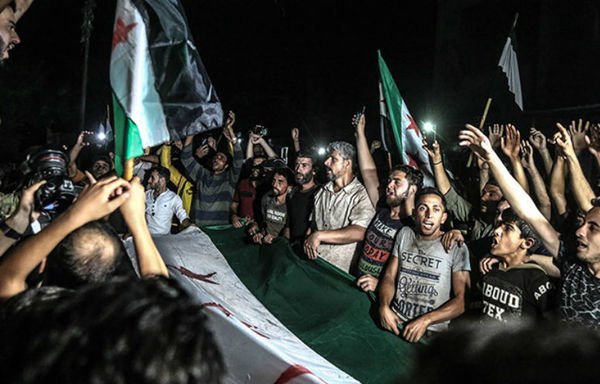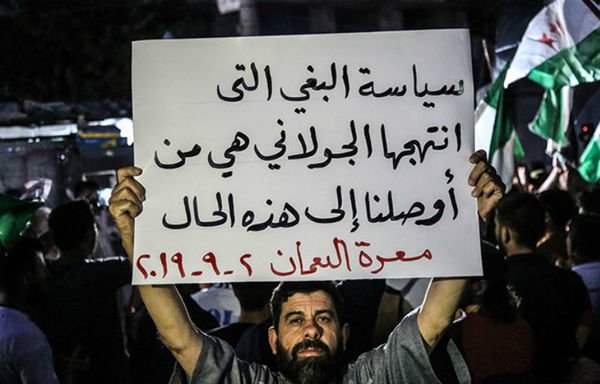 "The demonstrations also were against Tahrir al-Sham and its policies," which included detaining its opponents "or forcing them to leave the area", he said.
"This is in addition to the extremist alliance's control of all basic commercial contracts, its price hikes and imposition of taxes despite the very bad economic conditions which the people are facing," al-Numan said.
Protests staged across the province
Protests were staged in Maarat al-Numan, Saraqeb, Binnish, Ariha and Kafr Takharim, he said.
"Many people took part in them, raising the flag of the Syrian revolution, along with signs attacking both the regime and Tahrir al-Sham," he added.
The signs demanded that Tahrir al-Sham leave the area, blaming it for the difficult conditions civilians are now facing.
Al-Numan said job opportunities are scarce, and families are feeling the pinch with the new school year beginning and the approach of the winter season when their household expenses typically rise.
"People here have real fears that Tahrir al-Sham will withdraw from their areas" as the regime advances into them, as was the case in Khan Sheikhun, he said.
"This would lead to a massive wave of displacement towards the border areas, and people would have two bitter options: either to leave, or stay and risk arrest by the regime," he said.
This is a genuine concern for many people as there is an enormous number of people who are wanted by the regime, he noted, including youth who may risk arrest "under the pretext of performing the obligatory military conscription".
0 COMMENT(S)