Many Iraqis now feel that Iran-backed militias have taken advantage of their participation in the fight against the "Islamic State of Iraq and Syria" (ISIS) to legitimise their presence and promote Iran's agenda, political analysts said.
"The militias place the interest of Iran above all else and are following the path put in place by Iran's Islamic Revolutionary Guard Corps (IRGC) without thinking twice," journalist and political analyst Ziyad al-Sinjari told Diyaruna.
"They do not realise that they are merely cards that are being played by the Iranians that they would ultimately burn," he said.
Iran-backed militias in Iraq -- such as the Badr Organisation, Harakat al-Nujaba, Asaib Ahl al-Haq and Kataib Hizbullah -- are promoting the interests of a regime "that is even hated by the Iranian people, and is accused of corruption and lack of interest in resolving economic crises from which Iranians are suffering", he said.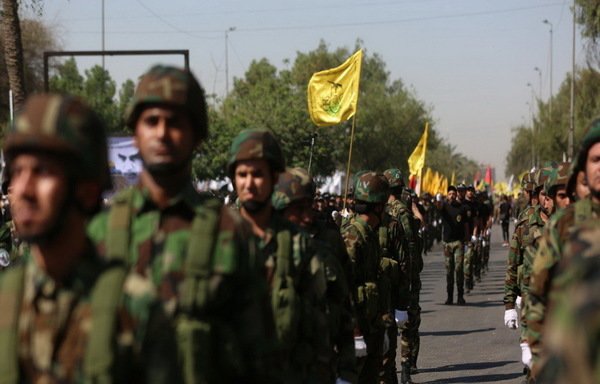 "Iraqis are now aware of the true nature of ISIS," he said. "But they also know the truth about the Iran-backed militias, which do not protect them from terrorism as they claim, but instead steal their resources and implement the Iranian agenda."
This has "dangerous implications" for Iraq's security and sovereignty, he said, noting that these militias "have lost all credibility and the trust of the Iraqi people".
Caught between Iraq and Iran
The IRGC aims to "undermine the security, safety and future of the Iraqi people with the help of its affiliated militias, whose blood it has bought with money and influence", former Iraqi MP Mithal al-Alousi told Diyaruna.
These militiamen are used as a "tool by the IRGC to achieve its ends", he said.
IRGC commander Mohammad Ali Jafari has stated on more than one occasion that the IRGC has recruited 100,000 Iraqis, al-Alousi said.
He noted that these recruits are being "enticed and misled with false slogans and exploited for the sole purpose of serving the Iranian project".
"Iran does not place any value on the militias," said political expert Anmar al-Duroubi. "Instead, Iran uses them for the purpose of spreading divisions and chaos in Iraq and neighbouring countries and so will ultimately discard them."
The Iranian regime seeks to impose its hegemony over Iraq, he told Diyaruna, and to submerge Iraqi nationalism as part of this goal.
Though this effort is cloaked in sectarianism, he said, the real goal is political.
"Militia members need to realise that they mean nothing to this regime, which would turn its back even on its own people, and is not interested in alleviating their economic burden," al-Duroubi said.
Since its inception, he noted, the IRGC "has paid exceptional attention to what is has dubbed 'foreign missions', which entails giving marching orders to its militias to follow its Quds Force (IRGC-QF) to stir tension and trouble".
But the IRGC-QF has a long history of using these militias for its own purposes and then casting them aside, he said.
In present-day Iraq, he said, there is "growing public resentment about the blind submission of the militias to Iran, and how both sides are working together to turn Iraq into a passageway and warehouse for deadly weapons".
Resentment of Iran-backed militias
"The militias no longer have the residents' loyalty or sympathy," political affairs researcher Abdul Qader al-Nayel told Diyaruna.
"These pro-Iran militias have disappointed us," said Baghdad resident Abu Aliya, who asked that his full name not be used in this story.
"In the beginning, we thought that they were motivated by patriotism when they first emerged and took part in the war on ISIS," he told Diyaruna. "Now, however, their true nature has been exposed."
"People near and far know well enough that they are a tool of the IRGC, working for them rather than for the interest of the Iraqi people," he said.
Another Baghdad resident who asked that he be referred to simply as "Abdullah", said the militiamen "have no regard for our lives and the future of our children".
"They have become puppets in the hands of the IRGC," he told Diyaruna.
Arms depots a threat to Iraqi civilians
"The IRGC, with the help of its Iraqi militias, has in recent months shipped large quantities of missiles and projectiles to Iraq," al-Nayel said.
The weapons are hidden in trucks and brought in through 12 unofficial border crossings in Diyala, Wasit, Maysan and Basra provinces, he said, from whence they are moved to the militias' camps inside various cities.
These illicit Iranian arms shipments are being stockpiled and stored "without regard to safety or security standards or any consideration for the lives of the residents living near these camps", he added.
The militias must be punished for stockpiling weapons in residential areas, a resident of al-Madain, a town south-east of Baghdad, told Diyaruna.
"It is an outrageous and immoral act," he said, adding that these militias should know that "our areas are not a repository for their weapons and Iran's missiles".