Tensions have been simmering in southern Syria's Sweida province, fueled by the regime's insistence that young men turn themselves in for mandatory military service and reserve duty, a local activist said.
The recent unmasking of a Hizbullah operative, who was found to have been working to create discord between two local Druze factions, has further inflamed the situation, Sweida activist Nizar Bou Ali told Diyaruna.
Bou Ali explained that placing these factions in opposition to each other would create a weakness that the Syrian regime and Hizbullah could exploit to enter and penetrate deep into the province.
"Intensely high tensions prevail in the city of Sweida and other areas of the province following the uncovering of a plot that would have led to infighting between Harakat Rijal al-Karama and the Sheikh al-Karama forces," he said.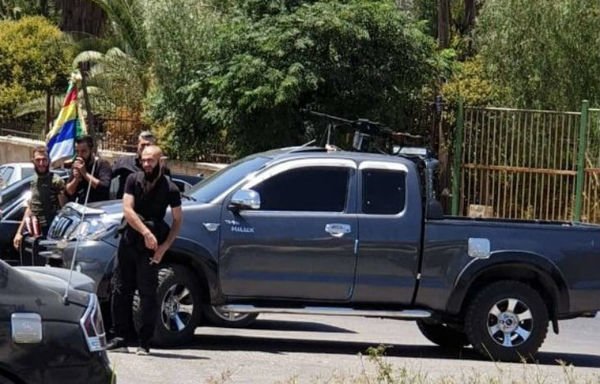 The plot was discovered when unknown assailants opened fire on a Sheikh al-Karama faction near the city of Salkhad in mid-August, Bou Ali said.
After combing the area to look for the assailants, weapons, ammunition and a phone were found that belonged to a Lebanese Hizbullah element named as Rabih Siyagha, who was in charge of cross-border movement to and from Lebanon.
The phone contained text message exchanges and other information "regarding the many bombings and assassinations that had been carried out in co-ordination between Hizbullah cells and Syrian regime forces to ignite strife", he said.
The aim of this incitement was to enable the regime and Hizbullah to penetrate deep into the region, which has so far remained outside their control, he said.
Local factions meet
Bou Ali added that local factions, led by Harakat Rijal al-Karama and Sheikh al-Karama forces, held several meetings, attended by clerics and dignitaries, in which they expressed their rejection of the actions of the regime and Hizbullah.
The local factions warned that if these actions were to continue, then tension in the region would boil over, and regime forces and Hizbullah elements would be directly targeted.
Bou Ali said the regime is still insisting that Sweida youth turn themselves in for mandatory military service and reserve duty, while the residents of the province refuse to comply with this order.
The number of young men wanted for military service is estimated at more than 50,000, he said.