Iraqi forces on Saturday (August 24th) launched the fourth phase of the "Will of Victory" security campaign, which focuses on clearing the Anbar desert of "Islamic State of Iraq and Syria" (ISIS) remnants.
Forces from the Anbar and al-Jazeera operations commands, the 1st, 7th and 8th Infantry Divisions, Border Guard, local police and tribal mobilisation forces are taking part in the operation, backed by Iraqi army and coalition warplanes.
Iraqi forces kicked off the campaign on July 7th, with the earlier phases of the campaign focused on clearing ISIS remnants from large areas on the outskirts of Baghdad and from Anbar, Diyala, Ninawa and Salaheddine provinces.
In a Ministry of Defence statement issued Sunday, the army's deputy chief of operations Lt. Gen. Abdul Amir Rashid Yarallah said the fourth stage of the campaign "is proceeding according to plan, and based on an intelligence effort".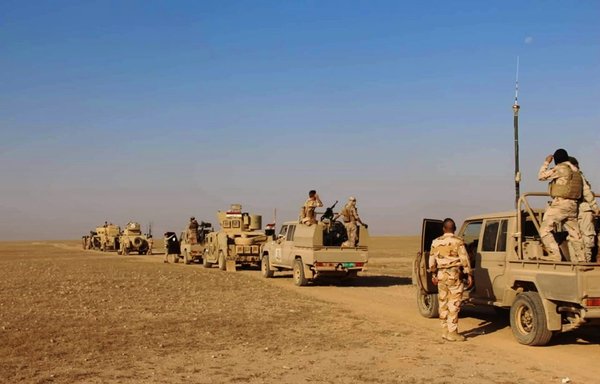 Iraqi Prime Minister Adel Abdul Mahdi, Minister of Defence Najah al-Shamari and Interior Minister Yassin al-Yassiri arrived in Anbar on Sunday to conduct meetings with security and military leaders in the province, the statement said.
A number of desert areas have been searched, it noted.
These include Marqab al-Khabbaz, Qasr Amij, al-Mudhim, Umm al-Waz, Wadi Houran, al-Kusheiti, Umm al-Kasr, Aklat Albu Shihab, Ghabat al-Manaj, Shuaib al-Daie, Ghabat al-Salloum, Wadi Mudaisis and al-Halkoum.
Four ISIS elements have been killed during the campaign, two of whom were killed in a coalition strike on a hideout and a supplies warehouse west of the area of Salija, the ministry statement said.
Four more ISIS elements and two other suspects have been arrested, the statement said, adding that a total of 15 sites used by ISIS elements and eight improvised explosive devices (IEDs) had been destroyed.
Effort to secure Anbar desert
The "Will of Victory" operation is a "proactive move by the security forces" to eliminate ISIS hideouts, strategy expert Ahmed al-Sharifi told Diyaruna.
"The move is part of a series of operations aimed at surrounding ISIS remnants and neutralising the threat they pose from areas in the heart of the desert," he said, as well as in other areas that are difficult to access.
The intensive military action in these areas has been yielding positive results, he added, as forces charged with tracking down ISIS remnants have curbed the group's ability to operate by implementing preventive security measures.
Fully securing the Anbar desert "is possible, despite the challenge posed by its vast terrain that is open to several provinces, and its proximity to three countries: Syria, Jordan and Saudi Arabia", al-Sharifi said.
Achieving this goal requires, in addition to successful military operations, a focus on using advanced technical monitoring and reconnaissance, as well as enhancing rapid intervention operations using airborne forces, he said.
It also requires "closing all gaps and outlets for the militants' logistical and human supply from the Syrian border in order to completely drain their resources", al-Sharifi added.