The Syrian regime has been applying all kinds of pressure on the residents of Eastern Ghouta in what appears to be a systematic plan to force them to leave their homes and move to other areas, a local activist said.
Basic services are still almost non-existent, and youth in the region are being arrested even though they were covered by the provisions of the reconciliation agreement, Ghouta activist Mohammed al-Beik told Diyaruna.
After lifting the siege it imposed on Eastern Ghouta -- a former opposition enclave outside Damascus -- and entering the region following the settlement agreements, the regime began to impose a siege from within, he said.
"Youth are arrested arbitrarily and taken to security branches to be questioned about their previous involvement in opposition activities, even though the agreements had supposedly dismissed all charges against them," al-Beik said.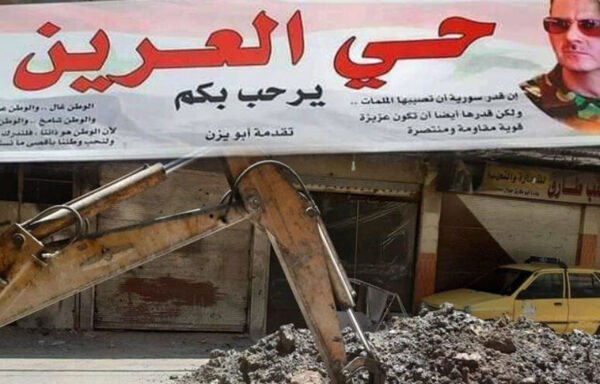 The detainees are in most cases taken to mandatory military service camps and then transferred to Idlib to take part in the ongoing fighting there, he said.
The same applies to those who voluntarily report to fulfill their military service, he added.
According to al-Beik, services in most towns and villages of Eastern Ghouta are almost non-existent, as the region is still without electricity, water or hospitals.
Residents were told to pay all taxes and electricity and water bills accumulated since 2011 before they could obtain an electricity meter, he said.
They also are forbidden from going to Damascus without obtaining permission from the security authorities -- which can take a month or more to obtain, he said, noting that elements of all security branches are heavily deployed in the region.
Signs of regime strategy
Meanwhile, regime forces are continuing to confiscate houses and property owned by residents who fled for other areas of Syria or other countries, al-Beik said.
"These properties are currently occupied by regime supporters from outside the region, and are in effect bringing about a demographic change," he explained.
The regime's intention is beginning to become clearer, he said, pointing out that it "clearly aims to create a security cordon around Damascus".
In keeping with this strategy, he said, the regime has changed the names of several areas, assigning them new names that indicate loyalty to the regime.
The name of Sheikh Ibrahim district in Kafr Batna has been changed to al-Areen (Lion's Den), in reference to the name of Syrian President Bashar al-Assad, for example.
And the name of a residential district in Ayn Tarma has been changed to al-Raees (the President), al-Beik said.