Humanitarian aid workers in northern Syria gathered Monday (August 19th) near Bab al-Hawa border crossing in northern rural Idlib to mark World Humanitarian Day with a vigil and protest.
The more than 150 relief activists and aid workers who assembled called for humanitarian workers to be protected during military operations, local activist Haisam al-Idlibi told Diyaruna.
They called for compensation for the injured among them, and for the families of humanitarian workers killed while carrying out their duty, and also demanded that the fate of dozens of forcibly disappeared activists be made known.
They held up a large banner bearing the names and photographs of relief workers who have been killed, al-Idlibi said, along with signs demanding that humanitarian activists be spared from danger and afforded protection.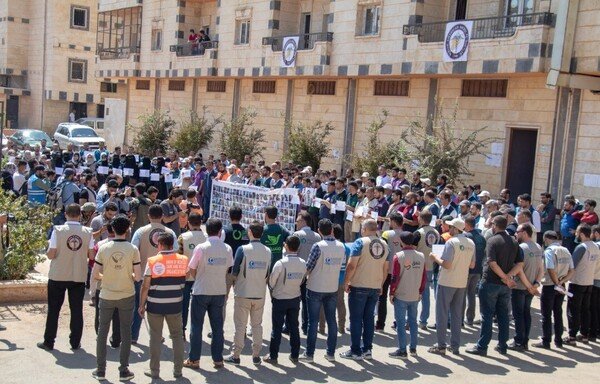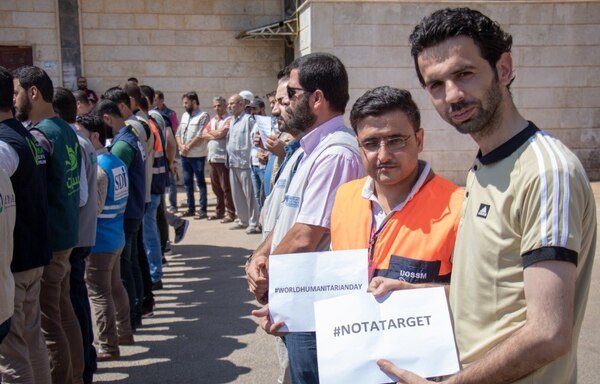 The vigil to express solidarity with humanitarian workers is an annual event, held on the UN-declared World Humanitarian Day, said Syrian NGO Alliance (SNA) member Nurreddine al-Jammal, who volunteers in Aleppo and Idlib.
"The number of humanitarian organisations operating in northern Syria has declined steeply," he told Diyaruna, noting that "fewer than 22 organisations currently operate under the auspices of the SNA".
World Humanitarian Day participants raised the issue of the forcibly disappeared -- those who have been kidnapped by the parties to the conflict in more than one region under various pretexts, al-Jammal said.
Humanitarian aid workers are directly exposed to danger on a daily basis, he said, as they are being targeted by Russian and Syrian regime warplanes.
A large number of them have been killed or wounded in airstrikes, he said, most recently in the strikes that targeted areas of southern rural Idlib.
'Deadliest place for aid workers'
For the third year in a row, Syria has remained the deadliest place to be an aid worker, according to an analysis done by CARE International.
Of the 57 aid workers who have lost their lives worldwide since the beginning of this year, 18 were killed in the Syrian conflict, CARE said.
"While the people of Idlib are wholly dependent on aid delivered to their communities, heavy artillery and shelling since late April has resulted in an unacceptable loss of life of humanitarian workers and the wider civilian population," says Nirvana Shawky, CARE's Regional Director for the Middle East and North Africa.
"All parties to the conflict must meet their responsibilities under International Humanitarian Law to protect all civilians, including aid workers, and ensure they are able to deliver vital assistance to people in need," she said.