Iraq's Counter-Terrorism Service on Tuesday (August 13th) said its forces carried out an airdrop in Anbar's desert, with support from the international coalition, that resulted in the death of 10 "Islamic State of Iraq and Syria" (ISIS) elements.
Coalition warplanes carried out an airstrike on ISIS rest houses in Wadi Houran in al-Rutba desert, followed by an airdrop by the CTS's 1st Tactical Unit, the CTS said in a statement.
Clashes ensued, which led to the killing of "eight terrorists", it said, noting that "when the force searched one of the rest houses, two terrorists wearing explosive vests were found hiding there".
"One of the suicide bombers was killed while the other blew himself up against the attacking force without causing any casualties in its ranks," it added.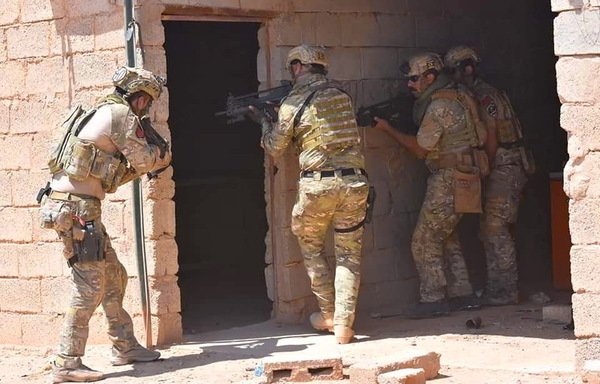 A local source who asked to remain anonymous provided Diyaruna with more details about the operation, saying that coalition warplanes on Sunday conducted a strike against an ISIS hideout in the desert of al-Rutba.
The next day, the warplanes returned and "targeted ISIS elements who had come to retrieve the bodies of their comrades and provide medical aid to those who were injured in the initial strike", he said.
The airborne tactical CTS force then landed on the site of the bombing and engaged the two ISIS suicide bombers, he added.
It also launched "an extensive search mission of nearby areas, resulting in the arrest of five ISIS elements", the source said, noting that the international coalition continued to bomb ISIS hideouts and rest houses in the desert on Tuesday.
Weakened terrorists
The security campaign, dubbed "Operation Eid Dominance", resulted in "heavy, unexpected losses in ISIS's ranks", he said.
The strike was "accurate, effective and based on information collected from reconnaissance planes and advanced surveillance techniques", he said, "in addition to reports from secret informants".
The operation comes a few days after the soldiers of the 4th Brigade of the Iraqi army's 1st Division, supported by tribal forces, carried out a search mission for ISIS remnants in al-Tabaat in al-Rutba's desert, he said.
"The troops found a truck loaded with large quantities of weapons and ammunition that the terrorists had abandoned as they fled," the source said.
"The desert still serves as a haven for the terrorists," he said, "but their numbers there are diminishing and their powers are weakened as result of military pressure".