Iraqi analysts who spoke with Diyaruna said the recent imposition of sanctions on the leaders of Iran-aligned Iraqi militias and politicians has raised fears and speculation in some circles over who will be targeted next.
The US Treasury Department on July 18th imposed sanctions on two Iraqi militia leaders and two former governors for human rights abuses and corruption.
In response, Iraq's Central Bank on July 25th announced it was freezing the assets of the four individuals and placing a ban on their financial dealings.
It urged all financial institutions in Iraq to provide access to the bank accounts of these individuals and to prevent them from gaining access to US dollars.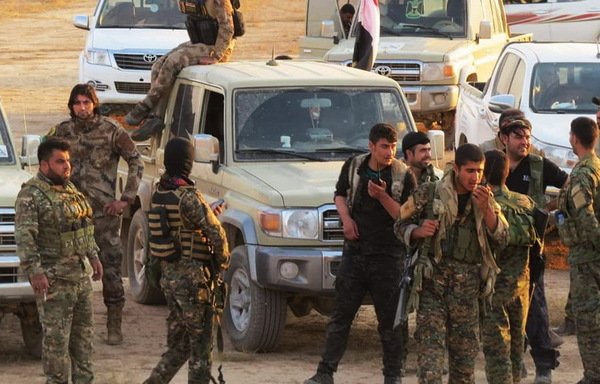 The sanctions came as a shock in some circles, "particularly in light of increasing chatter around other figures whose names might be added to the sanctions list", journalist Ziyad al-Sinjari told Diyaruna.
Speculation about several other names that might be listed in the next round of sanctions has been making the rounds on social media, he said.
This reflects support on the part of Iraqis for sanctions and their desire for similar decisions to quickly be made that would result in ridding the country of militias and looters of public funds for good, he added.
Through affiliated media channels, the militias in question have tried to claim the sanctions do not impact them, he said, but according to reliable sources they "are very worried and cautious about any subsequent decisions".
Sanctions on IRGC front companies
The US Treasury on June 12th placed Iraq-based South Wealth Resources on its sanctions blacklist, saying the company served as a weapons trafficking and financial front for Iran's Islamic Revolutionary Guard Corps (IRGC).
According to the Treasury, the IRGC used Manabea Tharwat al-Janoob General Trading Company to smuggle weapons worth "hundreds of millions of dollars" to its allies in Iraq.
The company and two Iraqis who worked with it -- Makki Kazim Abd al-Hamid al-Asadi and Muhammed Husayn Salih al-Hasani -- also were placed on the US State Department's list of specially designated global terrorists.
In March, the Treasury sanctioned the Iran-backed Harakat al-Nujaba militia, as well as its leader Akram Kaabi.
And in May 2018, the Treasury designated Aras Habib, chairman and chief executive of al-Bilad Islamic Bank, and the bank itself, for supporting the IRGC's Quds Force (IRGC-QF).
Habib, who has a history of serving as a conduit for financial disbursements from the IRGC-QF to Iranian-backed Iraqi militias, also has helped to provide IRGC-QF financial support to Lebanon's Hizbullah, the Treasury said.
The sanctions will "constrain the activities of the groups backed by Iran that are responsible for committing heinous crimes against Iraqis and violating their human rights", Iraqi writer Ghaith al-Tamimi told Diyaruna.
They also will serve to "tighten the noose on corrupt individuals and those who embezzle public funds", he said, describing the Iraqi government's swift response to the sanctions "a positive indicator".
Al-Tamimi called for upcoming sanctions lists to include "top militia warlords" from Iran-backed militias who he claimed are "working towards destabilising the security situation and undermining the sovereignty of the country".