Some Iraqis fear Iran-backed militias will resort to using excessive force to suppress new waves of protests against poor public services and Iranian intervention that broke out in June in several southern provinces of Iraq.
Iran-backed militias participated in suppressing similar demonstrations that broke out last year in the southern Iraqi province of Basra.
Over the past year, Iran-aligned militias such as the Badr Organisation, Asaib Ahl al-Haq, Kataib Hizbullah, Saraya al-Khorasani and Harakat al-Nujaba have targeted demonstrators and civil rights activists in Basra province.
Activists told Diyaruna this has been done with the backing of Iran's Islamic Revolutionary Guard Corps (IRGC), and noted the detention or disappearance of several demonstrators and threats made against supporters and tribal leaders.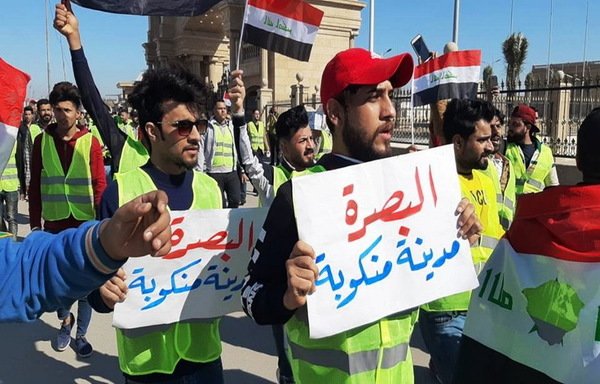 The militias seem to be preparing for another crackdown on protests as Iraqis "exercise their right to demonstrate against deteriorating public services and Iranian infiltration", Iraqi journalist Omar al-Janabi told Diyaruna.
"The barbaric methods the militias used during the previous demonstrations have been designed to intimidate the civilian population against continuing their protests," he said.
"These groups intend to do even more than before to protect their interests and their control and influence over the state and the economy," he added.
Activists assassinated
At least three Iraqi activists have been assassinated by unknown assailants believed to be linked to the Iranian regime in recent months, among them Suad al-Ali, director of Basra's al-Wid al-Alami for Human Rights, who was killed in September.
Sheikh Wissam al-Gharrawi, a cleric and prominent activist during the Basra demonstrations was assassinated in November, while Iraqi writer and novelist Alaa Mashzoub was killed in February.
Several young men who took part in the protests also have been killed, with media reports claiming assassination squads affiliated with the militias received lists of the names of Iraqi activists from Iran.
Iraq's Independent High Commission for Human Rights received dozens of complaints regarding arrests or disappearances of activists, whose fates remain unknown, as well as reports of anonymous death threats.
Iran-backed militias are responsible for committing several crimes against activists and writers exercising free speech, said Ghazi Faisal Hussein, an adviser at the Iraqi Centre for Strategic Studies.
Iranian intelligence services and the IRGC's Quds Force "have played a key role in undermining the latest demonstrations, especially those that occurred in Basra", he told Diyaruna.
"They will not hesitate to deploy all their resources to target peaceful demonstrations by Iraqis who turn out to renounce their criminal activities and plundering of the country's resources," he said.
The demonstrations are a manifestation of the resentment that Iraqis feel towards the Iranian regime and its militias, he added, noting that many people hold these militias responsible for the rampant corruption and poor public services.
Curbing Iranian influence
Iran-backed militias have been putting Iraq at risk of international sanctions by illegally smuggling Iranian oil through Iraqi ports, Hussein said.
They have been draining Iraq's economy by imposing tariffs on businesses and commercial enterprises in areas where they wield influence, he said.
Hussein accused the militias of running secret prisons, in Baghdad, Basra and elsewhere, that are not under the management of the Ministry of Interior, the Ministry of Justice "or any other government authority".
Thousands being held in these prisons have been detained without arrest warrants or trials, Hussein said, claiming they "are subjected to torture and brutal interrogation practices at the hands of Iranian agents".
He urged the Iraqi government to put in place more effective measures to end unlawful practices that constitute "flagrant violations of the state's sovereignty and responsibility that is mandated by the constitution".
A Basra resident who asked to remain anonymous meanwhile told Diyaruna he strongly condemns Iranian efforts to "silence voices and suppress rights that are protected by the democratic system and constitution of Iraq".
"These militias will not scare us, since it is our right to organise peaceful demonstrations at any time and any place so we can call for our legitimate demands according to a legal framework," he said.
These demands include "improving services, fighting corruption, curbing lawlessness and protecting the sovereignty of the nation against any form of external intervention", he added.