Syrian regime warplanes on Monday (August 5th) resumed airstrikes on Idlib province, breaking a short-lived ceasefire with accusations that extremist and opposition fighters had targeted a key Russian airbase.
The Syrian Observatory for Human Rights announced that regime warplanes had launched their first airstrikes since Thursday on the town of Khan Sheikhun in Idlib's southern countryside, AFP reported.
The bombardment came minutes after the Syrian regime said it would resume operations against the Idlib region, and accused "terrorist groups" of targeting the Hmeimim air base in Latakia province with rocket fire.
Earlier in the day, with Tahrir al-Sham refusing to budge from the designated buffer zone around the Idlib region, civilians in the area had told Diyaruna they feared it would not be long before regime and Russian airstrikes resumed.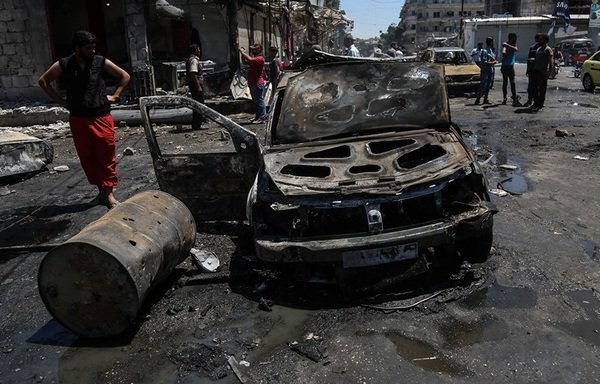 Tahrir al-Sham leader Abu Mohammed al-Joulani on Saturday announced that his extremist alliance would not withdraw from the buffer zone as stipulated by the ceasefire agreement that went into effect August 2nd.
The U-shaped buffer zone was established by Turkey and Russia last September to separate regime forces from extremist and opposition fighters.
Tahrir al-Sham had on Friday warned it would respond to any violation of the most recent ceasefire agreement, Idlib activist Haisam al-Idlbi told Diyaruna.
On Sunday, following al-Joulani's announcement, the town of Badama near Jisr al-Shughour came under regime artillery shelling that killed one civilian -- a woman -- and wounded a number of others.
Observatory head Rami Abdel Rahman said it was the first civilian death since the implementation of the truce deal.
Displaced civilians have not returned
Al-Idlibi told Diyaruna the situation is reminiscent of the September ceasefire deal, which eventually collapsed, leading to airstrikes and fierce fighting.
Although the most recent ceasefire agreement was announced five days ago, none of those who were displaced by the heavy airstrikes and shelling had returned to their areas before the violence began anew, he noted.
Instead, civilians had taken advantage of the relative calm to restock their temporary shelters with food, fuel and other supplies in anticipation of the resumption of airstrikes, al-Idlibi said.
Even though airstrikes stopped during the brief truce, sporadic fighting and shelling continued to flare up in northern Hama province.
There has been shelling in recent days in al-Latamna, Kafr Zita and the outskirts of Morek, he said.
Fierce fighting also broke out on the edges of the Sahl al-Ghab area, triggered by a Syrian regime and Russian attempt to advance, al-Idlibi said, which resulted in two people being killed and several others wounded.