The Iraqi government on Wednesday (July 31st) officially reopened the railway line linking Baghdad with the Baiji (al-Sumoud) oil refinery in northern Salaheddine province.
The line was sabotaged by the "Islamic State of Iraq and Syria" (ISIS) while it was in control of the province, and had been out of service for five years.
Railway personnel have repaired or replaced all damaged segments along the route, including iron bars and concrete supports, and the locomotives that provide the power to move the trains also have been rehabilitated.
The reactivation of the line was a major challenge, as ISIS had caused a great deal of damage, said Ministry of Transportation spokesman Salem Moussa.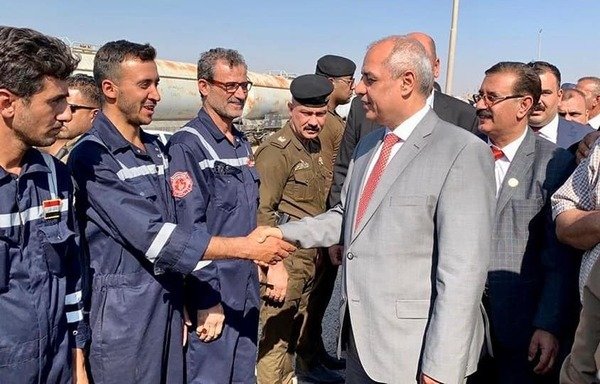 "But our engineering and technical staff have been able to accomplish these missions on their own initiative and have reactivated this vital line," he told Diyaruna.
"The line begins with a sub-route (11 kilometres) extending from the oil production plant (in the Baiji refinery) to the main transport station in the Baiji city centre, and from there to the capital, Baghdad," Moussa said.
It is "a most important line that enables the transportation of the largest quantity of oil products" in rail cars equipped with containers, he said.
The line offers a shipping capacity of 500 cubic metres per day of all petroleum products, notably gasoline, he added.
Increase in oil production
The Baghdad-Baiji railway line's reactivation comes one week after the Oil Ministry announced that derivative production in the Baiji refinery has reached 70,000 barrels per day.
The ministry said it expects to double that quantity once work that is currently under way to rehabilitate two new oil refining units has been completed.
In addition to transporting oil products, Moussa said, the rail line "enhances the ability to transport passengers as well as commercial goods between provinces".
It also facilitates the Ministry of Commerce's shipments of ration card items.
The Ministry of Transportation seeks to rebuild and develop railway lines as they provide an important service in mobilising the economy and encouraging growth, he said, as well as generating strong returns on investment.
"We are advancing according to a strategic plan to rejuvenate the railway sector's infrastructure," he said.
Many railway lines put out of service by ISIS, including the Baghdad-Samarra line and the Baghdad-Fallujah line, have been reactivated, he said.
The ministry is preparing to restore the remaining rail links, he said, notably the railway line extending northwards from Baiji to al-Qayyarah oil refinery, and from there to the city of Mosul and the towns of western Ninawa province.