The security situation in the western Anbar province district of al-Rutba is stable, and security and tribal forces are prepared to contend with any emergency, district officials said Tuesday (July 23rd).
Local media on Monday reported that special units from the Anbar police's tactical regiment, which had been operating with air and reconnaissance support from the international coalition, had withdrawn from al-Rutba.
Some local officials expressed concern that the withdrawal would see a deterioration of security, as these units had been tracking down "Islamic State of Iraq and Syria" (ISIS) remnants in the district's desert areas.
They warned that ISIS remnants seek to exploit the "security vacuum" and resume their activities and attacks against local residents.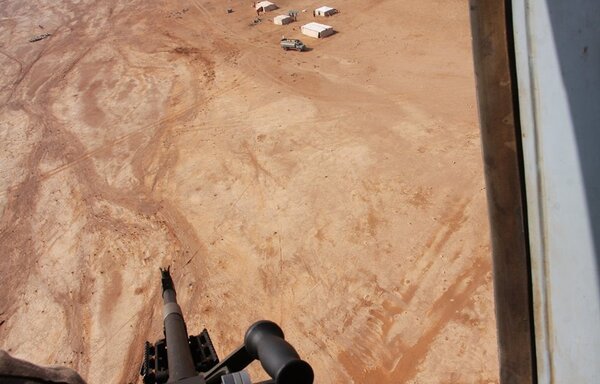 But al-Rutba mayor Imad al-Dulaimi on Tuesday reassured Diyaruna that the town is "stable and surrounded by a tight security cordon".
Al-Rutba district "is under no terrorist threat", he said.
"The centre of the district is strongly held by units from the Iraqi army's 1st Infantry Division, as well as the 20th emergency regiment of the provincial police and al-Rutba police department, in addition to tribal forces," he said.
"All these forces are carrying out their security missions as normal and are in a state of constant readiness to prevent any terrorist threats," he added. "Their operations and patrols continue to protect the town and secure the desert."
Need for continued vigilance
Al-Dulaimi said he understands the concerns some members of the Anbar provincial council have expressed about the tactical regiment's withdrawal.
"I consider these as warnings, aimed at alerting the government and being vigilant to the ISIS remnants' attempts to establish a foothold in remote desert areas," he said.
"The terrorists are trying to seize opportunities and look for gaps in order to regroup and carry out any act of terrorism to lift their broken morale," he said.
But "all the while, our forces are ready and are hunting down the ISIS members and targeting their movements wherever they may go", he added.
"Our areas have been safe and stable for three years."
Al-Rutba district is home to one of Iraq's largest desert areas, however, he said, and includes a vast stretch of land that extends to Iraq's western border with three countries: Syria, Jordan and Saudi Arabia.
This makes it difficult to hold this area, and to impose full security control over it by conventional means, he said, calling for a reinforcement of the effort to monitor the desert via drones, cameras and remote surveillance equipment.
Over the last two weeks, Iraqi forces have carried out a major security campaign in the desert of western Anbar, inflicting heavy casualties in the ranks of ISIS remnants, and destroying their weapons and logistical capabilities.