Attacks on Syrian regime forces have escalated in the recent period in the southern province of ​​Daraa, a local activist told Diyaruna.
On Wednesday (July 17th) an improvised explosive device (IED) targeted a convoy that was carrying members of the Syrian army's 4th Division.
Six soldiers were killed and 15 were wounded in the attack in al-Maftara area in al-Dahiya district on the Daraa-al-Yaduda road on the outskirts of Daraa city.
Another explosion, on the Sheikh Saad road in northern rural Daraa, was evidently intended to kill a colonel in one of the Syrian security branches.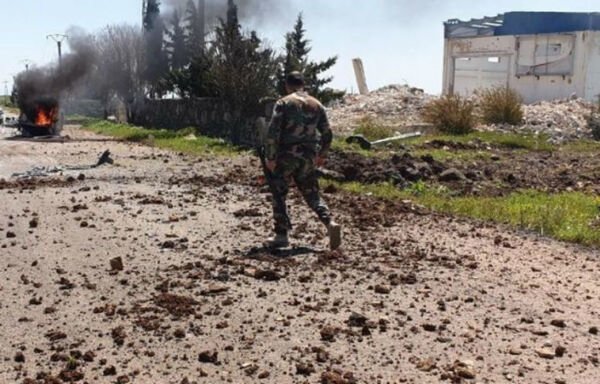 In the aftermath of the attacks, the city of Daraa and its surrounding areas have been in a state of high alert and heightened tension, Daraa city activist Jumaa al-Masalmeh told Diyaruna.
No one has claimed responsibility for the attacks so far, he said.
A history of friction
According to Syrian Observatory for Human Rights chief Rami Abdel Rahman, former opposition fighters from the so-called popular resistance in the south usually carry out these types of attacks, AFP reported Wednesday.
On May 21st, Human Rights Watch (HRW) reported that the Syrian regime had carried out a wave of arbitrary arrests against former activists in opposition areas that surrendered under Russia-brokered deals.
The regime offered amnesty to all who agreed to end their anti-regime activities, and many chose to be evacuated to opposition-held territory.
HRW said its research showed that former regime critics and opposition fighters who signed up for "reconciliation" had paid heavily for their decision, and documented numerous cases of arbitrary detention and disappearance.
These actions were most prevalent in Daraa, Eastern Ghouta and southern neighbourhoods of Damascus, HRW said.
"Active combat has ended in much of Syria, but nothing has changed in the way intelligence branches trample rights of perceived opponents of [regime] rule," HRW's acting Middle East director, Lama Fakih, said at the time.
"Lack of due process, arbitrary arrests, and harassment, even in so-called reconciled areas, speak louder than empty government promises of return, reform and reconciliation," Fakih said.
Escalating violence
Following the Wednesday bus attack, Syrian regime forces declared a state of military and security alert in an attempt to find the perpetrators of the attacks or those who are collaborating with them, al-Masalmeh told Diyaruna.
The number of attacks carried out in various parts of Daraa has increased significantly in recent weeks, including a Saturday (July 13th) attack on Russian army patrol near the town of al-Sahwa in eastern rural Daraa, he said.
There also have been several assassination attempts in the recent period that resulted in a number of deaths and injuries, he added.
A few days ago, a 4th Division checkpoint in the town of al-Ammouriyeh in Wadi Yarmouk in western rural Daraa was attacked with rockets and machine-gun fire, causing a number of casualties among the soldiers manning the checkpoint.