The Trebil border crossing with Jordan has begun to generate daily financial revenues that are the highest since it was reopened, amid significantly improved security in Iraq's western province of Anbar, a local official told Diyaruna Monday (July 15th).
The border crossing was reopened in 2017 after being closed for three years due to security concerns in the aftermath of the "Islamic State of Iraq and Syria" (ISIS) occupying large swathes of Iraq.
In a sign of increased security, Jordanian trucks loaded with goods in March began crossing into Iraqi territory again through Trebil, having previously unloaded their cargo at the crossing for it to be picked up by Iraqi trucks.
"Trebil crossing is a key border crossing that serves as a vital lifeline for the Iraqi economy," Anbar provincial council spokesman Eid Ammash told Diyaruna.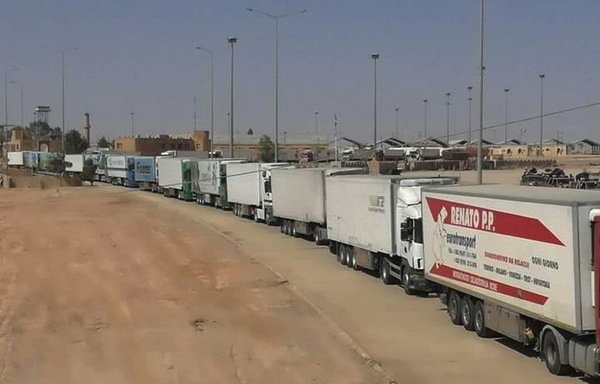 "Its reopening, after a three-year hiatus as a result of terrorism, was an extraordinary event," he said, adding that commercial and passenger traffic has returned to normal.
"The crossing today is experiencing major economic activity, with hundreds of commercial trucks coming into the country every day, in addition to regular passenger traffic," he added.
The Trebil crossing has begun to register a daily financial revenue of 1.9 billion Iraqi dinars ($1.6 million), the Iraqi Border Crossing Ports Authority said in a statement Sunday.
This revenue is the largest since the defeat of ISIS and is a "cause for satisfaction," said Ammash, noting that these numbers are expected to grow in light of improved security conditions and enhanced logistical services.
International highway secured
"Iraqi forces are maintaining a tight security hold of the crossing," Ammash said, noting that Border Guard checkpoints are heavily deployed along the border with Jordan.
The international highway that stretches 400 kilometres from the Trebil border crossing to the city of Ramadi is "highly secured", he said, adding that Iraqi army sentries and checkpoints manned by the Anbar police emergency battalion are positioned along the road.
This is in addition to ongoing security campaigns in villages and desert areas adjacent to the road, said Ammash.
Iraq also has been conducting repairs to the international highway, which had sustained damage in ISIS attacks, he said, adding that the reconstruction of two bridges that were destroyed by the group will be completed soon.