The Syrian regime's aerial bombardment has killed four civilians in a displacement camp near the town of Deir al-Sharqi in eastern rural Idlib, a local activist said Wednesday (July 10th).
The four people who died were members of the same family and were killed in their tent, activist Haisam al-Idlibi told Diyaruna, with the Syrian Observatory for Human Rights reporting they were two women and two children.
The camp is not near any military site or activity, al-Idlibi said, noting that camp residents had fled there from areas on the frontlines that had been coming under fire, and that some of them are shepherds.
Some towns also were targeted with airstrikes and missiles, he said, including al-Rakaya, Maazita, Hobait, Madaya, al-Sheikh Mustafa, Arnaba, Taree, Sukayk, Kafr Ayn and Tal Abbas.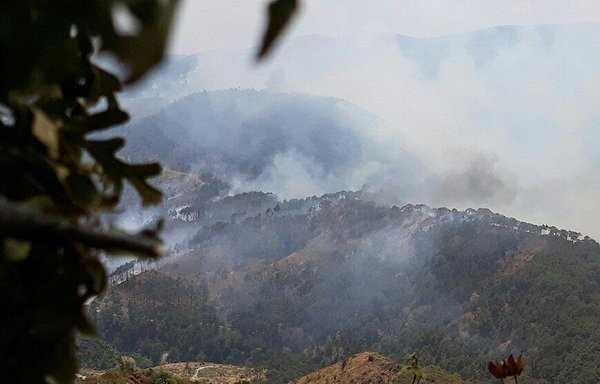 Meanwhile, fierce fighting erupted between Syrian regime forces and armed factions in the Turkmen Mountain area in rural Latakia province, al-Idlibi said.
The fighting began when the armed factions launched a surprise dawn attack in which they achieved a modest advance, breaching regime defenses at several points and destroying a number of tanks and military vehicles.
Four regime soldiers were captured and more than 10 were killed, he said.
Fighting is ongoing in Tallet Zahia, Tallet 428 (Hill 428), the village of Atira and a nearby strategic hill where the regime held a key position, he added.
Al-Idlibi said fires are burning in the forested areas in the Turkmen Mountain region following an explosion at regime ammunition depots.
Regime forces have withdrawn from some areas out of concern that the fire will spread, he said.
Hospital knocked out of service
Regime airstrikes on Wednesday killed seven civilians, including three children, in the Idlib province town of Jisr al-Shughur and knocked a hospital out of service, the Observatory said.
Three civilians died after the hospital was hit, while four were killed elsewhere in the town, said Observatory head Rami Abdel Rahman.
The Syrian Civil Defence (White Helmets) said missiles targeted the hospital and residential neighbourhoods in Jisr al-Shughur, AFP reported.
A doctor there said the health facility had been knocked out of service after the generators were hit, and the wounded had been transferred to another hospital.
"We have no more generators to operate the hospital. It is the only one for Jisr al-Shughur and neighbouring villages," Bassam al-Khattab told AFP.
The UN says 25 health facilities in the region have been hit, despite a September deal between Russia and Turkey to avert a massive regime offensive there.