Iraqi authorities on June 1st began registering children who were born in areas previously under the control of the "Islamic State of Iraq and Syria" (ISIS).
Iraqi courts have been working in partnership with the security authorities to issue birth certificates for unregistered children based on their parents' identity documents or witness testimonials.
This measure will put an end to one of the thorniest issues of the ISIS era, which left thousands of children without official registration, since documents issued by the group are not recognized by the Iraqi government.
The move to register these children is "an important initiative", as it is unfair to deprive them of their right to citizenship in their country of birth, said Ali al-Bayati, spokesman for Iraq's Independent High Commission for Human Rights.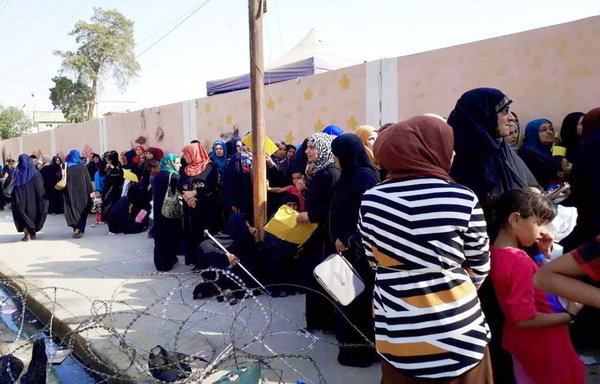 "Obtaining the documents means they will be able to enjoy full citizenship rights and societal integration so their futures will be protected," he told Diyaruna.
Families previously faced a number of hurdles when they submitted applications to register their children, he said, as Iraqi couples who had married while ISIS controlled their area had to first prove the validity of their marriage.
"The issue becomes even more complicated if one of the parents, especially the father, is deceased, missing or connected to the terrorist group," al-Bayati said.
Security authorities have been required to conduct a lengthy security check, he said, especially in cases where the father was an ISIS foreign fighter who was married to an Iraqi woman.
"We hope that after this decision, this issue will be taken more seriously in spite of its difficulty and complexity, which could lead to resolution of some of the cases," he said.
Al-Bayati also called for the adoption of legislation that addresses the issue of children of unknown origins and those whose paternity cannot be ascertained, as well as calling for the families of orphaned children to be compensated.
He underscored the importance of transitional justice in liberated communities "so that the rights of all the families and children that are born during the control of terrorists, including the children of ISIS fighters, are protected".
Humanitarian resolution
"The decision allays the fears of a new generation of terrorists or criminals coming into being," said Ninawa provincial council member Ghazwan al-Dawoodi.
In recent months, the council has received "many requests from families, particularly from the wives of ISIS militants, to intervene and promptly register their children", he told Diyaruna.
"We also have been constantly calling for the resolution of this issue, and asking that it be dealt with in a humanitarian way," he said, noting that children of ISIS parents should not be held accountable for the crimes of their parents.
These children "should not be left without documentation that would expose them to future delinquency, violence, revenge and feelings of marginalisation and discrimination", al-Dawoodi said.
He suggested resolving this complicated issue in stages.
"First of all, we have to resolve the issue of those children whose parents are still alive, and then orphans and those whose paternity is unknown," he said.
The decision to register children born in areas that were under ISIS control "addresses a thorny humanitarian issue", said Ayser Fakhri who teaches psychology at Baghdad University.
This especially pertains to "children who were born under extraordinary circumstances and are now between the ages of 2 and 5", he told Diyaruna.
The decision improves the chance that these children will become well-adjusted individuals who are integrated into Iraqi society, Fakhri said, noting that this also requires the provision of support services and psychological rehabilitation.
The government's step will "pull the rug from underneath terrorists who take advantage of these children" by brainwashing them with extremist ideology and recruiting them into their ranks, he said.