Iraqi forces in Anbar province have killed nine "Islamic State of Iraq and Syria" (ISIS) elements, including five who were trying to infiltrate the country from Syrian territory.
An Iraqi army 27th Brigade patrol on Saturday evening (June 29th) spotted a number of ISIS elements in motion at the border strip in the Iraqi village of Tarifawi, north of the city of al-Qaim, near the administrative border between Anbar and Ninawa, said Ghanim al-Aifan, a tribal leader in western Anbar.
The patrol opened fire on the militants who were intending to sneak into Iraq and hide in the desert, killing them on the spot, he told Diyaruna.
They had in their possession dollar banknotes, phones and computer flash drives, he said, adding that the data and photos the seized items contained are currently being downloaded and analysed.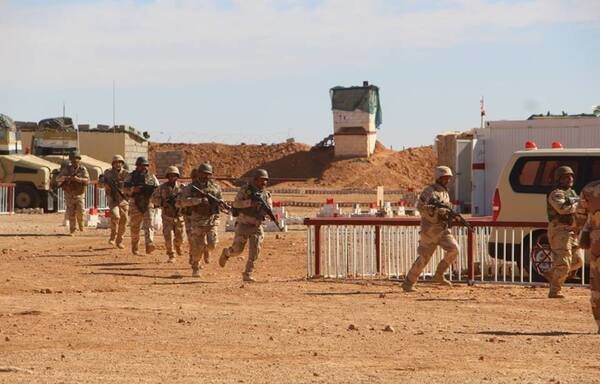 "ISIS remnants exploit the weak security situation on the Syrian side to infiltrate and establish a foothold in [Iraqi] desert areas," al-Aifan said.
"But our forces are deployed along the border, especially next to areas where security is lax in al-Baghouz in Syria, and they constantly block the terrorists' attempts to infiltrate," he said.
New operation to secure border
The Iraqi army, backed by tribal fighters, stepped up its campaign in June to counter infiltrations and secure the border areas, killing and arresting dozens of ISIS militants.
Soldiers from the army's 7th division, under the al-Jazeera Operations Command, border guard forces, the Anbar police, tribesmen and international coalition aircraft continue their operations to tighten their control of the border strip, al-Aifan said.
A new operation was launched Sunday to secure the border and close any loopholes the enemy could infiltrate through, he said.
"Desert areas and villages between the border districts of al-Qaim and al-Rutba were searched, based on security data collected following aerial reconnaissance, monitoring by local informants, and from intelligence sources," he said.
The operation left four ISIS members dead and two sites destroyed that contained various weapons, food and logistical supplies.
Explosives experts also defused a large number of improvised explosive devices (IEDs) planted in the areas covered by the operation, he said.