In recent hours, Syrian warplanes have stepped up their airstrikes on parts of Idlib and Hama provinces, where a number of civilian casualties, including children, have been reported, a local activist said.
Fierce fighting also continues at the contact points between the Syrian regime and allied militias on one side and Tahrir al-Sham and other armed factions, including extremist groups, on the other, activist Musab Assaf told Diyaruna.
Syrian warplanes have carried out dozens of airstrikes on a number of towns and villages in various parts of Idlib and rural Hama, he said.
An airstrike hit a number of houses in the Jabal al-Zawiya area village of Josef in southern rural Idlib, leaving five people dead, including two children, he said.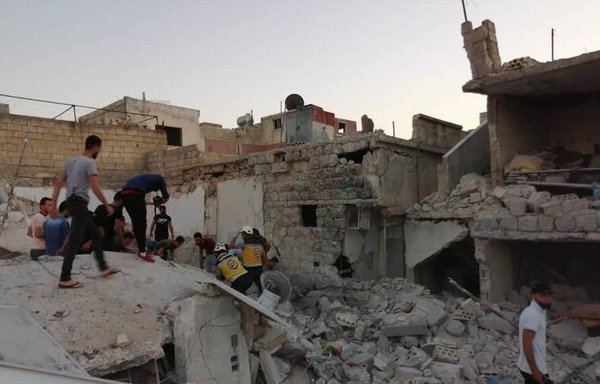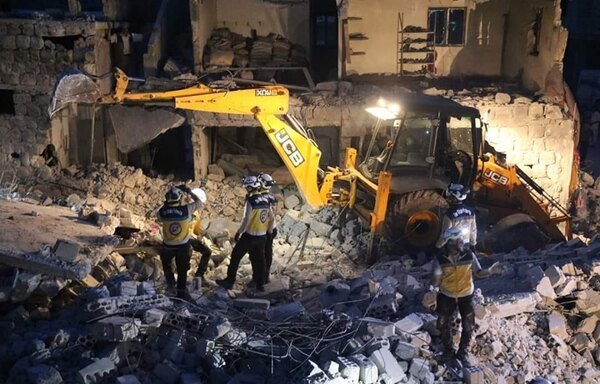 According to the Syrian Observatory for Human Rights, the two children were sisters who were both under the age of 10, AFP reported.
A number of others were injured in the strike, Assaf said, some of whom are in critical condition, making it likely the death toll will rise.
Airstrikes also targeted the cities and towns of Kafr Nabl, Sufuhon, al-Naqir, Kafr Battikh, Kafr Aweed, Kansafra, Bidama, Arnaba, Eblin, Bsames, al-Najiya, Maraand and al-Kinda, he said.
Rubble removal ongoing
Meanwhile, rubble removal operations are ongoing in the city of Maarat al-Numan following Saturday evening airstrikes that targeted an auto repair shop, leaving two children among the dead, Assaf said.
In the city of Saraqeb rubble removal also is ongoing, he added, after it was confirmed there were both victims and potential survivors under the debris.
Ten people were killed and dozens more were wounded on Saturday, he said.
A woman and three children were killed in an airstrike in the town of Saraqeb, the Syrian Observatory for Human Rights said.
Another child died in the village of Maar Zita, the Observatory said, while two other civilians perished in strikes on the villages of Kansafra and Khan al-Subul.
Assaf said fierce fighting is continuing on the frontlines between the regime and its allies and Tahrir al-Sham and other armed factions, including groups led by Jaish al-Azza.
This is mostly taking place on the edges of Idlib province and in northern and western rural Hama, he said.
The fiercest fighting has been taking place around al-Hammamiyat checkpoint in Hama, the Kabina area of Latakia, and along the al-Sarmaniya axis in northern rural Idlib, he said.
In al-Huweiz and al-Shanabra areas in western rural Hama, the two sides have been exchanging shelling and sniper fire, he said, but with no breach of the dividing lines between their respective areas of control.
Mounting death toll
Since Wednesday, AFP reported, more than 60 civilians have been killed in Syrian regime air raids in the Idlib region, the Observatory said.
Since the start of the escalation in north-western Syria in late April, more than 470 civilians have died in Syrian regime and Russian bombardment there.
In addition, 780 opposition and extremist fighters and more than 610 pro-regime fighters have died in raids and clashes on the ground.
The violence has forced around 330,000 people to flee their homes and has damaged or destroyed 23 health centres, according to the UN.