Iraqi forces destroyed six rest-houses used by "Islamic State of Iraq and Syria" (ISIS) remnants during a security operation in north-western Salaheddine province's al-Siniya island, a military commander said Tuesday (June 11th).
Over the past two days, security forces "have carried out a large operation to hit ISIS remnants hiding in the area of ​​al-Siniya island in Baiji district", Salaheddine Operations Commander Maj. Gen. Abdul Muhsen al-Abbasi told Diyaruna.
The operation was carried out in response to intelligence information, he said.
As of Tuesday, al-Abbasi said, six ISIS rest-houses have been discovered and burned down, along with "all of the food, medical equipment and logistical equipment that were in them".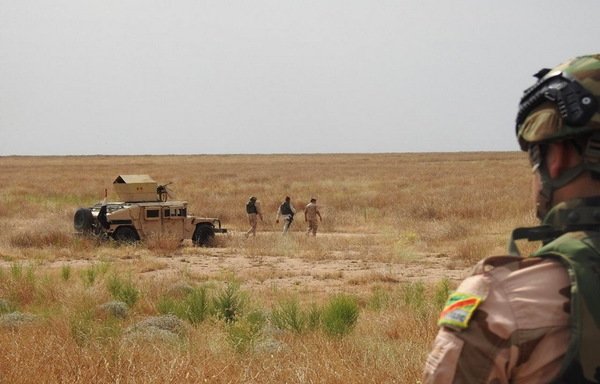 The operation "will help deflect the terrorists' threat to the population of the cities and villages near the island" and enhance the effectiveness of future operations in western Salaheddine, he added.
"We will soon have periodic missions and campaigns against these areas to completely clear them of terrorists and to secure the administrative border with the provinces of Ninawa and Anbar," al-Abbasi said.
'Hunted down in all areas'
ISIS remnants in Salaheddine "are taking their last breath", al-Abbasi said.
"Their activities have been diminished as result of the strikes and raids directed at their bases and of being hunted down in all areas where they take shelter," he said.
"We are following them and monitoring their movements through our intelligence work, and we will eliminate them wherever they may go," he said.
In recent period, security activity has been enhanced in remote areas of the province, outside its urban centres, al-Abbasi noted.
Security forces in the province have succeeded in killing eight prominent members of ISIS, destroying six of the group's rest-houses and defusing six explosive belts, he said.
They also have disarmed a booby-trapped house, a bomb making plant and a booby-trapped car, in different parts of the province, he said, adding that ISIS remnants "are unable to withstand our quality campaigns".
While there are indications that crop fires that have ravaged the province's farmland were set by ISIS, he said, "the bulk of the fires have been due to reasons unrelated to terrorism".
These include "tribal conflicts and disputes between farmers over ownership of the burned lands", he said.