Iraqi forces, supported by international coalition aircraft, launched an attack Thursday (June 6th) deep into the Anbar desert that killed at least three senior "Islamic State of Iraq and Syria" (ISIS) elements, a tribal leader told Diyaruna.
"Joint forces of the army's 8th Division and tribesmen launched a major attack in the desert, west of the Akkas oilfield in the district of al-Qaim," said Upper Euphrates Brigade commander Col. Moussa al-Karbouli.
Airstrikes by international coalition aircraft destroyed a cave that was being used by the militants as a hideout.
"Iraqi troops found three of the terrorists' bodies near the cave," he said, adding that it is likely that "at least 10 others died inside the cave".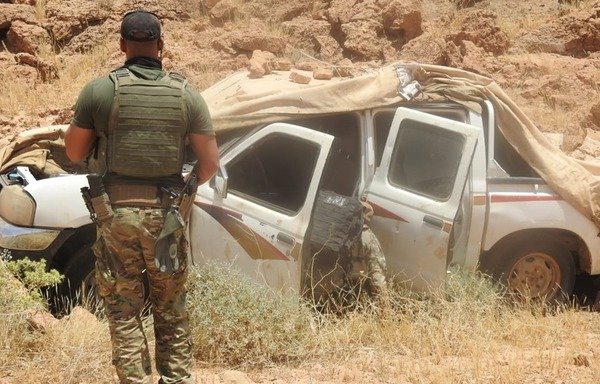 They also uncovered a large stock of laptops, smart phones and hard disks which contain a "valuable trove of information about ISIS remnants, their hiding places and plans", he said.
This information will help "step up the pace of operations against the terrorists in Anbar and other provinces", he said.
The troops also destroyed large quantities of weapons, equipment and supplies, a small truck, and 12 explosive belts, al-Karbouli said.
"In our experience fighting terrorist gangs, the explosive belts confirm that the men who were killed were not ordinary elements, but senior ISIS leaders who usually opt to blow themselves up when surrounded by security forces," he added.
'Open war in Anbar desert'
Security operations in the Anbar desert are "proceeding according to accurate plans and intelligence reports", he said.
ISIS remnants have recently carried out terrorist attacks in the towns of al-Karabila and Barwana in western Anbar in an effort to resume their activities and beef up their ranks, he said.
"But we are in an open war with them and are continuing our attack on their burrows in the desert," said al-Karbouli, stressing that ISIS remnants remain on the defensive and their attacks end in failure.
The security operation on Thursday is a "continuation of several security operations conducted this week in other areas of Anbar, including al-Tharthar Island, the desert of Heet and al-Baghdadi", he said, noting that ISIS has suffered losses in these attacks.
Separately, the Iraqi Interior Ministry announced Friday that security forces have cleared nine villages in Anbar of ISIS war remnants and explosives.
"Joint security forces have cleared nine villages between al-Qaim and Akashat in preparation for bringing their residents back," Anbar police chief Maj. Gen. Hadi Kassar Erzaij told Diyaruna.
"ISIS terrorists had planted explosives, landmines and improvised explosive devices (IEDs) in those villages," he said.
The troops have also been clearing underground weapons caches over the past two months with the support of the international coalition, he added.
"At least three tonnes of explosives, ammunition, mortars, and locally-made rockets have been removed to a safe place for disposal," he said.
"The next task will be getting maintenance teams inside those areas to restore basic services, including water and electricity, before bringing residents back," he said.