Syrian regime forces and affiliated militias have advanced in southern rural Idlib near the city of Kafr Nabudah, which fell into their hands a few days ago, a local activist told Diyaruna.
Intensified airstrikes carried out by Russian and Syrian warplanes meanwhile targeted a number of towns and villages, Idlib activist Musab Assaf said.
Syrian forces and affiliated militias were able to take control of five towns in southern rural Idlib, he said: al-Qassabiyeh, al-Humayrat, Qirata, al-Hardana and al-Qaroutiyyah, which are administratively attached to Khan Sheikhun.
These towns were under the control of Tahrir al-Sham, he said, and their capture enabled regime forces to secure the town of Kafr Nabudah, which they captured a few days ago, Assaf told Diyaruna.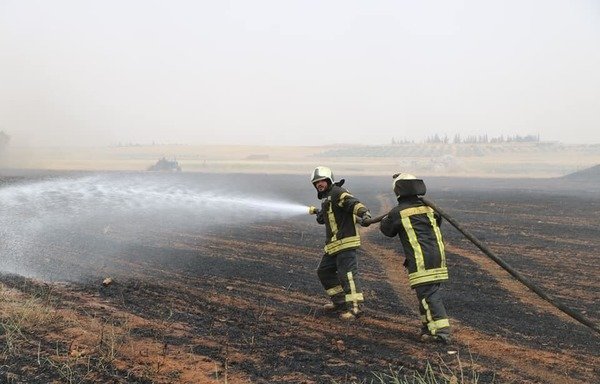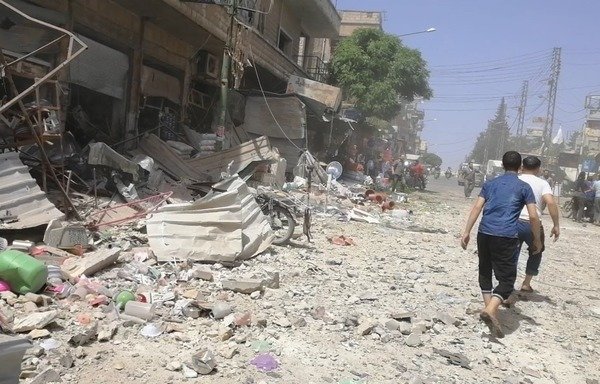 The towns had formed the northern front against Syrian regime forces, and had served as a launchpad for counter-attacks against them, he said.
The regime's advance was accompanied by round-the-clock shelling by regime artillery and Russian and Syrian airstrikes that targeted more than 30 towns and villages over the past few hours, he said.
Children among the dead
Ten civilians were killed in airstrikes and shelling on Wednesday (June 5th), as residents marked Eid al-Fitr, AFP reported.
Two children were among six people killed in Syrian regime strikes on the Idlib town of Kafr Aweid, the Syrian Observatory for Human Rights said.
The victims' relatives gathered at the town's graveyard on Wednesday afternoon as an excavator dug a large pit in the ground.
The scattered remains of one of the children were placed in a cardboard box before being buried, an AFP photographer said.
The corpse of another was covered in an embroidered blue sheet.
Another civilian died in regime shelling in the northern Hama countryside, also held by Tahrir al-Sham, the Observatory said.
Regime airstrikes also hit a motorcycle in the Idlib town of Maarat al-Numan, killing a woman and her two children, said the Observatory.
Market, hospital hit in strikes
Airstrikes on Wednesday hit a market in Maarat al-Numan, causing a number of casualties, in addition to massive damage, Assaf told Diyaruna.
They also targeted al-Khatib hospital in the city of Kafr Nabl, knocking it out of service and leaving Kafr Nabl and surrounding areas without a hospital, as four other hospitals in the area were recently knocked out of service by airstrikes.
Assaf said the airstrikes appear to be targeting civilian homes in towns on the dividing line between regime-controlled areas and areas controlled by armed opposition groups and Tahrir al-Sham.
Agricultural areas and fields also have been hit during the strikes, sparking fires that have led to the loss of annual crops, he said.