A wave of improvised explosive device (IED) explosions has rocked the Syrian province of Idlib and its environs, killing a number of civilians and striking fear into the hearts of others, a local activist said.
There also have been casualties in the ranks of Tahrir al-Sham and other armed groups present in the region, local activist Haisam al-Idlibi told Diyaruna.
More than six IEDs have exploded in various parts of the north-western enclave over the past 24 hours, al-Idlibi said.
The fresh wave of violence has sparked panic among civilians who are already reeling from Syrian regime and Russian airstrikes on the outskirts of Idlib province, he said.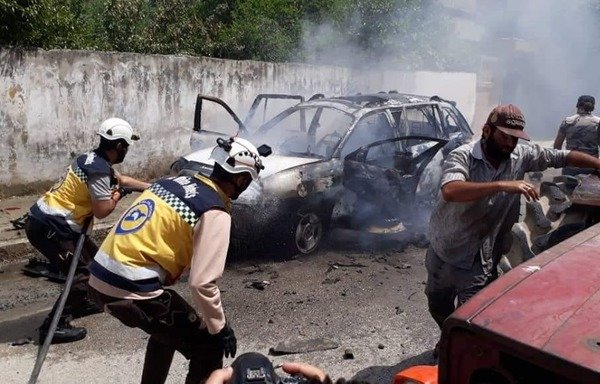 In the city of Idlib, four explosions targeted the extremist alliance Tahrir al-Sham, killing and wounding a number of its elements, he said, though there were no precise casualty figures available.
Three other IED blasts were reported in the towns of Sarmada, Khan al-Subul and Atmeh, and a number of IEDs also exploded in parts of rural Idlib controlled by Tahrir al-Sham and its allies, al-Idlibi said.
One blast targeted leaders of the Syrian Liberation Front in the town of Jindires and Urm al-Kubra, killing two of its fighters, he said.
At least 19 dead in Azaz market blast
Al-Idlibi said a large IED explosion also took place near a popular market in the city of Azaz, which is not under Tahrir al-Sham control.
At least 19 people, including four children, were killed Sunday in the Azaz blast, and more than 20 were wounded, the Syrian Observatory for Human Rights said.
"Many people were leaving evening prayers when the explosion happened," Observatory head Rami Abdul Rahman told AFP.
Shoppers buying clothes and gifts ahead of the upcoming Eid al-Fitr holiday were among those killed, said Jihad Berro, a coroner at a local hospital.
He said the medical facility was crammed with victims and their relatives.
"The emergency rooms were full, we placed corpses on the floor," he said.
"It is a real catastrophe before the Eid al-Fitr holiday," Berro said.
At the same time, al-Idlibi said, intensive airstrikes carried out by Russian and Syrian warplanes targeted the towns of Maara Hurma, Maar Shoreen, Khan Sheikhun, al-Faqie, Bidama and al-Hobait and the village of al-Sheikh Mustafa.
The airstrikes killed a number of civilians and wounded many others, as well as setting agricultural plains near residential areas afire.
The Syrian Civil Defence (White Helmets) put out the fires with help from local volunteers.
'Single largest mass displacement'
Syrian NGOs on Friday decried the mounting violence in Idlib, saying it had triggered the biggest wave of displacement since the war began, AFP reported.
As well as killing dozens of civilians, the recent bombardments by Syrian and Russian forces in north-west Syria have pushed 300,000 people towards Turkey's border, the NGOs said at a press conference in Istanbul.
"This is the single largest mass displacement in Syria since the beginning of the crisis" in 2011, they said in a statement.
More than two-thirds of those displaced are living without shelter, with border camps already running at double capacity, they added.
"The latest offensive began in March and has amplified since April 26th, turning into a daily massacre," said White Helmets head Raed Saleh.
The Syrian Observatory for Human Rights said Friday that close to 950 people had been killed in the latest clashes in Idlib.
The civil rights groups called for immediate action by the UN Security Council to end the escalation and put pressure for talks.
US President Donald Trump on Sunday told Syria and Russia to stop "bombing the hell" out of Idlib.
"Hearing word that Russia, Syria and, to a lesser extent, Iran, are bombing the hell out of Idlib Province in Syria, and indiscriminately killing many innocent civilians. The World is watching this butchery. What is the purpose, what will it get you? STOP!" he said on Twitter.
Kremlin spokesman Dmitry Peskov on Monday insisted the Russian army was targeting "terrorists" in Idlib, accusing them of firing at civilians and Russian troops.