Iraqi authorities have been working since the defeat of the "Islamic State of Iraq and Syria" (ISIS) to attract global investment in Anbar province.
The province "has massive economic resources, but they have not been properly utilised as a result of wars and difficult security conditions", said Anbar provincial council investment committee chairman Hamid Ahmed al-Hashim.
Since the ISIS ouster, he told Diyaruna, "our province has become generally secure and stable, allowing us to open the door for investment from the biggest global companies".
Local authorities "are trying to draw attention towards the province and to raise awareness that it is no longer a danger zone that is hostile to investment, but is now safe -- not only in the cities but even in the desert region", he said.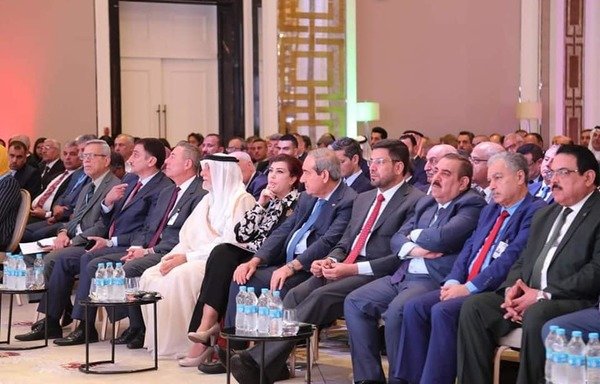 "We have proposed a number of investment opportunities and are working on shedding light on the massive resources in the Anbar desert," al-Hashim said.
"This region constitutes a third of the country's land mass and, based on global geological studies, contains massive reserves of raw natural resources," he said.
"In addition to natural gas, we have large quantities of phosphate and sand that is used in manufacturing glass, which is known for its high standard of purity, as well as limestone, used in the production of cement, and [clay]," he said.
Investment also is invited in agriculture, livestock and in tourism, he said.
To show potential investors the security improvement in Anbar, al-Hashim said the investment committee has put forth a roadmap of proposed projects and is seeking to "host more economic-focused seminars, conferences and meetings".
Oil sector revival
Al-Hashim called on the Ministry of Oil to open investment projects in the province's energy sector, including gas and oil, for global companies to bid on.
"Three natural gas reservoirs and one oil reservoir have been discovered in the Akkas gas field," Iraqi oil expert Hamza al-Jawahiri told Diyaruna.
Gas reserves in Akkas, near the Anbar border town of al-Qaim, are estimated at more than five trillion cubic feet and are considered the largest in Iraq.
"There are efforts to develop this gas field again, especially after improved security conditions, which is considered a key condition for any reconstruction to start," al-Jawahiri said.
The Korea Gas Corporation (KOGAS) in 2011 beat out several other foreign competitors to win a contract to develop the Akkas gas field, he said.
Al-Jawahiri said the Akkas field is important from a strategic perspective as it will help to move Iraq towards self sufficiency, and from there will help it become an exporter of natural gas.
To reach self sufficiency, Iraq needs to produce an additional 600 million cubic feet per day, according to official sources.
"Iraq is currently producing half of its requirements of gas and importing the other half," al-Jawahiri said. "The government is in the process of building five natural gas treatment plants in order to be self sufficient."
Foreign investment
"The Anbar desert is a promising region from an investment perspective due to the massive natural resources under its soil," al-Jawahiri said.
"In the event that these resources are properly utilised, significant revenues will be added to the state coffers, which will revive the economy," he said.
Foreign investors are already showing interest in the Anbar desert.
"Representatives from Saudi investment firms who visited Iraq in the beginning of April met with Iraqi officials and discussed investment opportunities in the western Anbar desert," economist Majid al-Suwari told Diyaruna.
Most of the discussion related to natural gas and phosphates, he said.
There is a strong appetite for investment in the desert region, he said, adding that the improved security climate throughout most of Anbar has made it possible for investors to enter a variety of sectors.
A number of positive benefits will come from these investments in terms of services, reconstruction, development and job creation, he said.