Iraqi forces are stepping up security in remote villages after an increase in attacks carried out by "Islamic State of Iraq and Syria" (ISIS) remnants, and have formulated a new plan to confront this threat.
The heightened security measures come in response to several recent attacks targeting civilians and members of the security forces.
On May 9th, the mayor of al-Lazaka village near Mosul was killed, along with four of his family members. A few days later, on May 14th, ISIS remnants attacked the village of Habib Abdullah in eastern Diyala, killing two civilians.
They also attacked members of the federal police stationed in villages in western Kirkuk, killing four officers and three other security personnel.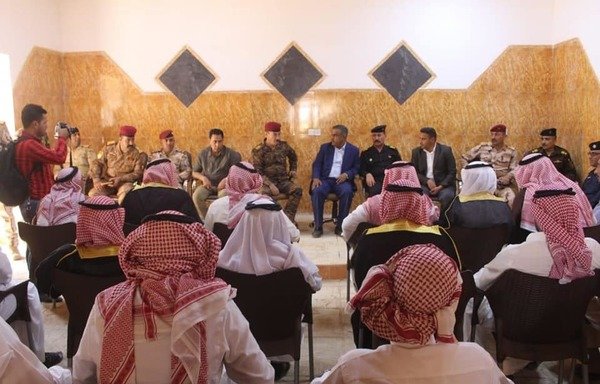 "ISIS members that escaped the liberation battles" are responsible for these attacks, according to Burhan al-Assi, deputy chairman of the Kirkuk provincial council security committee.
"Although there are only a few of them left, they nonetheless manage to move around efficiently, taking advantage of the geography of that area which is marked by open and rugged terrain," he told Diyaruna.
"Most of them live in remote villages and know the dirt paths, which gives them an advantage in staging surprise attacks and quick escapes," he said.
Al-Assi said the latest ISIS attacks, particularly in al-Rashad and al-Riyadh villages in western Kirkuk, are concerning, but he stressed that security forces are committed to ousting the group's last remnants.
"Parallel to these terrorist attacks, there have been successful operations by our security forces, with backing from the international coalition air force, to kill a large number of ISIS fighters that were in hiding," he said.
The safe houses these fighters had been using in al-Shai Valley, Upper Euphrates and Abu al-Khanajer "were all burned down", he said.
Co-operation with local tribes
Ninawa Operations Command on May 10th agreed to arm and increase co-operation with tribesmen in the province's remote villages.
"This is an effective countermeasure, since terrorist elements would take advantage of the fact that civilians were unarmed to conduct their operations and face no resistance," said Ninawa provincial council member Hussain Shabib.
"We have more than 60 villages scattered throughout the southern and western parts of Ninawa that are inhabited by al-Badrani and al-Hadidi tribes," he said.
These tribes "do not have enough weapons" to protect themselves, he told Diyaruna, pointing out that "raids mounted by terrorists on their villages are continuous".
Arming the civilian population is necessary, Shabib said, "but has to be viewed within the framework of creating local popular movements that are adequately supported, militarily trained and run by a central command".
ISIS attacks "have recently spiked", he said, with most targeting "villages that are located in the desert, as they are difficult to secure because they are scattered across vast areas".
"Security forces appreciate the threat this area poses on the security of the rest of the country, and their campaigns there are unrelenting," Shabib said.
"They are now working towards intensifying these campaigns and expanding the security coverage there," he said.
Pressure on ISIS remnants
On May 18th, the Iraqi army carried out a search operation covering 10 villages in al-Biaj desert in Ninawa province.
Security forces destroyed four ISIS safe houses and seized 200 camels that ISIS had previously stolen with the intention of smuggling them out of the country.
Iraqi security expert Ahmed al-Sharifi linked this heightened activity to ISIS leader Abu Bakr al-Baghdadi's speech, posted online April 29th, in which he urged his followers to keep up their attacks.
"The group has started to follow a covert war strategy ... that relies on hit-and-run tactics launched from secret locations targeting isolated villages and regions and areas with weak security measures," he told Diyaruna.
Al-Sharifi urged security forces to maintain pressure on the militants and said he supports arming the residents of these towns as a "self-defence tool to support the destruction of what is left of the terrorists' attack capabilities".