Syrian regime airstrikes on Tuesday killed 12 civilians in a market in Idlib province, the Syrian Observatory for Human Rights said Wednesday (May 22nd), as fierce fighting raged in the northwestern region.
Another 18 people were wounded when the strikes hit the town of Maarat al-Numan, which is largely controlled by Tahrir al-Sham, at around midnight Tuesday, the Observatory said.
The market was crowded with people out and about after iftar.
The bombardment blew in the facades of surrounding buildings, and ripped through the flimsy frames and canvas of stalls in the market square, an AFP photographer reported.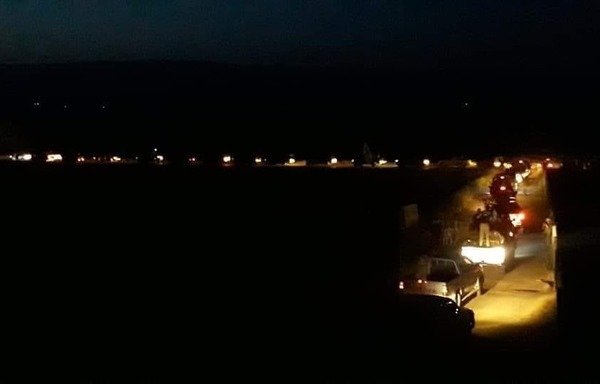 The bodies of market-goers were torn apart.
"Residents are still scared," stall holder Khaled Ahmad told AFP.
Two more civilians were killed on Wednesday in airstrikes on nearby Maaret Hermeh, the Observatory said, and third was killed in strikes on Jisr al-Shughur.
The strikes came as heavy clashes raged in the north of neighbouring Hama province after extremist groups launched a counterattack on Tuesday against pro-regime forces in the town of Kafr Nabuda.
Fresh fighting on Wednesday took the death toll to 52, with casualties on both sides, the Observatory said, adding that the extremists had retaken most of the town from regime forces who recaptured it on May 8th.
The UN said Wednesday that Idlib's civilian population once again faced the threat of an all-out offensive.
"Despite our repeated warnings, our worst fears are coming true," said David Swanson, a spokesman for the UN Office for the Co-ordination of Humanitarian Affairs (OCHA).
"A full military incursion threatens to trigger a humanitarian catastrophe for over three million civilians caught in the crossfire, as well as overwhelm our ability to respond," he said.
Swanson said more than 200,000 people have been displaced by the upsurge of violence since April 28th, and 20 health facilities have been hit by the escalation.
Violence after truce declaration
Russian warplanes and Syrian regime artillery units pounded parts of southern rural Idlib and northern Hama even after Moscow on Sunday said regime forces had "unilaterally ceased fire in the Idlib de-escalation zone", a local activist said.
Russian airstrikes targeted Kafr Nabl immediately following the declaration of the truce, killing at least 10 civilians, Idlib activist Musab Assaf told Diyaruna.
In addition to Kafr Nabl, areas that have come under heavy shelling include the villages of al-Arbaeen, al-Sahriyah, Deir Sunbul and Hawarta, he said.
Russian warplanes also targeted the towns of al-Habeet and the village Mughr al-Hama with a number of airstrikes, Assaf said.
At the same time, he said, many Syrian regime positions came under shelling from the direction of Idlib, especially Kafr Nabuda.
A regime-controlled airport in rural Latakia also came under fire, and fierce fighting broke out in the strategic town of Hwaiz in northern Hama, he said.
Armed groups, most of them extremists, have been massing their forces on the front lines against regime forces, he said, and large columns of vehicles have been seen transporting military equipment and fighters to the combat zones.
These groups include Ahrar al-Sharqiyah, Jaish al-Azza, Tahrir al-Sham, Jabhat al-Shamiyah, al-Hamza Brigade and al-Hasakeh Shield Brigade, he said.
Areas captured by regime-aligned forces in the recent fighting, particularly Qalaat al-Madiq in rural Hama, have seen a heavy deployment of Russian troops and Syrian regime forces, he added, including the elite al-Nimr force.