Work to reconstruct or repair four key bridges in the western Anbar sub-district of al-Baghdadi has been completed, a local official said Tuesday (May 21st).
National engineering and technical personnel "have completed the construction of four main bridges in the district", said Sharhabil al-Obeidi, director of al-Baghdadi sub-district, which is part of Anbar's Heet district.
"The bridges -- Houran, Zughaidan, Saitarat Majid and al-Jawaina -- had been bombed and deliberately sabotaged by elements of the "Islamic State of Iraq and Syria" (ISIS) during the battles to liberate al-Baghdadi," he told Diyaruna.
"The restoration of these bridges to service will lift the burden off the local people, who have been suffering from difficulties and delays in reaching their destinations," he said.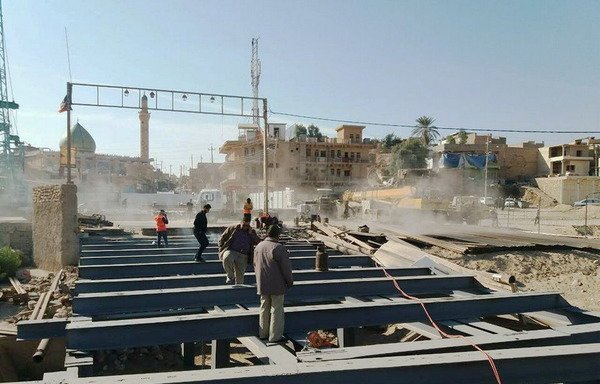 The rebuilding of the bridges is "part of a partnership and co-ordination between the local Anbar government and the national fund for reconstruction of areas affected by terrorist operations", al-Obeidi said.
Eight area bridges in total were destroyed during the battle to oust ISIS, he said, adding that rehabilitation work is set to begin soon on the remaining four.
Further reconstruction efforts
Al-Baghdadi has seen solid progress in its reconstruction efforts, al-Obeidi said, noting that several service projects, together worth around four billion dinars ($3.35 million) are currently in the works.
Among them is a project to pave four kilometres of al-Jabba street and eight kilometres of al-Doulab street, which were destroyed as result of ISIS car bombs and improvised explosive devices (IEDs), he said.
"We also have a project to rehabilitate the water plant and public services in the residential neighbourhood, which has witnessed fierce fighting to clear it of ISIS gangs," he added.
The UN Development Programme (UNDP) has meanwhile launched a campaign to clean up the town and remove the rubble from its streets, al-Obeidi said.
"The campaign will last two consecutive months and includes the participation of 150 cleaning workers and 10 special vehicles for clearing and transporting waste from the centre of the town and its outskirts," he said.
Improved security situation
"The town is stable security-wise, and military and tribal forces are deployed everywhere and controlling all entrances", al-Obeidi said of al-Baghdadi.
Additionally, he said, forces from al-Jazeera Operations Command "have been carrying out periodic pre-emptive operations to clear the western desert and the island area of terrorist remnants", he said.
This includes forces from the 7th and 8th Divisions and tribal brigades and units, including al-Baghdadi and Barwana units and al-Haditha brigade, he said.
"The Counter-Terrorism Service in the middle of this month carried out a major attack on Wadi Houran with the help of Iraqi army and international coalition aircraft," he said.
This assault resulted in "the killing of nine ISIS elements and the destruction of rest-houses, tunnels and hidden weapons caches", he said.