A fierce assault on northern rural Hama that began on Wednesday (May 8th) culminated with the Syrian regime seizing control of the strategic city of Kafr Nabudah and the town of Qalaat al-Madiq, an activist said.
After a series of attacks and retreats, the armed groups that had controlled these areas withdrew to rural Hama and neighbouring Idlib, activist Haisam al-Idlibi told Diyaruna.
Russian and Syrian warplanes had paved the way for the advance, he said, with airstrikes and artillery shelling focused on Kafr Nabudah and the town of Qalaat al-Madiq to its west.
The ground offensive began with heavy shelling followed by fierce fighting on the outskirts of Kafr Nabudah and subsequently in the city's inner districts.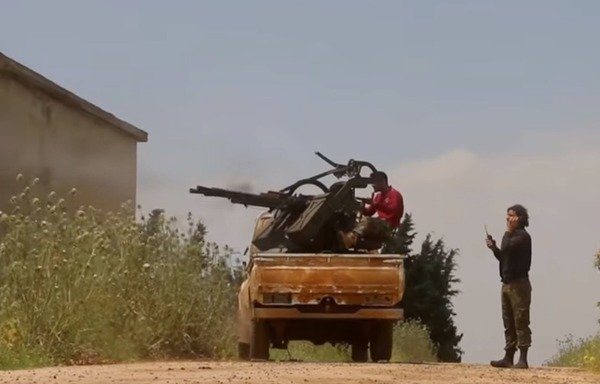 Control of Kafr Nabudah changed hands several times between the Syrian regime and rival groups, until the opposition and extremist groups -- Tahrir al-Sham, Jaish al-Azza and the Syrian Liberation Front -- ultimately withdrew.
The Syrian regime declared full control of Kafr Nabudah on Wednesday night.
On Thursday it renewed its assault and took the town of Qalaat al-Madiq.
"The capture of Kafr Nabudah and Qalaat al-Madiq is of great importance and could tip the balance of the battle, given their strategic location," al-Idlibi said.
They overlook key points and roads, he said, and whoever controls them can control the area on the outskirts of Hama and Idlib provinces, especially the areas adjacent to Qalaat al-Madiq, such as Sahl al-Ghab and Khan Sheikhun.
Battle advances into new areas
On Friday shelling was targeting the northern Hama towns of Kafr Zita and al-Lataminah and nearby al-Hubayt in southern rural Idlib, al-Idlibi said.
These are expected to be the Syrian regime's next destination, he said, though the fighting is not expected to be as intense as it was in Kafr Nabudah.
Meanwhile, rural Hama and Idlib are on full alert amid the continuing shelling and airstrikes that have hit civilian areas, he said, particularly the town of Tal Sakhr, which appears to be the Syrian regime's next destination.
Leading the offensive on Kafr Nabudah and Qalaat al-Madiq was the Syrian regime's elite al-Nimr force, led by pro-Russian Brig. Gen. Suheil al-Hassan, nicknamed al-Nimr (The Tiger), al-Idlibi said.
Russian warplanes paved the way for the infantry with a large number of airstrikes, "and a number of Russian gunmen, who are likely members of the Wagner mercenary group, were observed in Kafr Nabudah", he said.
Both sides suffered heavy casualties, al-Idlibi noted.
This is partly because both Jaish al-Azza and Tahrir al-Sham said they used suicide bombers who blew themselves up among the attacking forces.