Iran's Islamic Revolutionary Guard Corps (IRGC) has been misappropriating money local and foreign donors have earmarked for flood relief to fund its external agenda and pay affiliated armed groups, experts and observers said.
As tens of thousands of Iranians continue to suffer from the devastation caused by April's floods and torrential rain, funds intended to help them are instead being used to pay IRGC proxies in Iraq, Yemen and Syria, they said.
"Clearly, the IRGC is not distributing all incoming financial aid to flood-stricken Iranians," said Al-Sharq Centre for Regional and Strategic Studies researcher Fathi al-Sayed, who specialises in Iranian affairs.
Upon examination, he told Al-Mashareq, it is clear that the quantity of aid that has been distributed to the people does not match the quantity Iran received.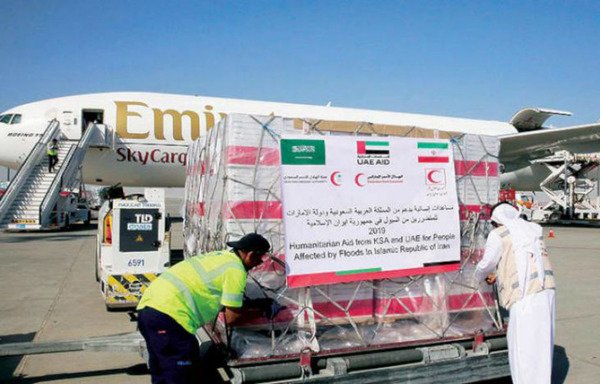 This discrepancy can be attributed to the IRGC, he said, which took possession of "thousands of dollars that were intended for those affected by the floods".
While many of the accounts opened at Iranian banks to receive donations reached high balances, the Iranian authorities closed them, and transferred the funds to the IRGC, he explained.
They justified this move by claiming the accounts were not authorised to receive aid funds, saying only certain groups, including the Iranian Red Crescent, have that right.
Many countries have provided in-kind assistance to Iran despite their political differences with its regime, he said, putting humanitarian concerns first.
Saudi Arabia and the UAE contributed a large amount of aid, as did Oman and Kuwait, he said, noting that the amount that was distributed is much less than what has been sent.
"Syria's announcement that it sent aid to those affected was met with widespread ridicule by Iranians on social networking sites," he added, with users claiming the donated money belonged to the Iranian people in the first place.
Iranian people are fed up
"The Iranian people are fed up with the IRGC's control over the political [process] in Iran, and its control over every detail, no matter what it is," Iranian dissident writer and political analyst Ali Narimani told Al-Mashareq.
The IRGC's meddling extends to "the distribution of aid funds or even the food items donated" to the Iranian people by numerous countries and international and UN humanitarian organisations and bodies, he said.
The IRGC's use of Iraqi militias in rescue operations and to open roads with heavy machinery they provided "was widely criticized by Iranians", he noted.
This is because these militias are funded primarily by the IRGC, he said, "and it is not logical that the IRGC does not own heavy machinery and bulldozers to open roads [itself]", while funding Iraqi militias with the Iranian people's money.
Without question, the floods "exposed the enormous dereliction of duty by the Iranian government toward the Iranian people", Narimani said.
All countries help other nations in times of natural disaster, he said, but the affected countries typically provide the bulk of the assistance themselves.
In the case of Iran, however, he said, the assistance distributed to flood-stricken areas is the aid donated by Gulf states, some European countries and the UN.
"Kuwait, for example, set up an air-bridge to transport food and medical aid and logistical equipment to help the internally displaced persons (IDPs) who left their flooded areas," he said.
Pilfering the people's money
The IRGC's continued expenditure of large sums of money on its affiliates outside Iran "is a clear pilferage of the Iranian people's money", Syrian lawyer Bashir al-Bassam told Al-Mashareq.
So is the assistance it provides to civilians in Syria in the areas under its control and its continued military support for the Syrian regime, he added, as is its determination to establish arms factories and military camps in Syria.
Food and money originating from Iran has been distributed in many parts of Syria's Deir Ezzor province, he noted.
"It is not normal or rational that you send the people's money abroad to pursue political aims while your people are reeling from a devastating disaster and need financial, logistical and in-kind assistance," he said.
"This is the clearest evidence of the IRGC's criminal policy that puts the interest of [pursuing] political aims ahead of domestic interests and the people's interest," al-Bassam said.