Heightened vigilance in the areas of Anbar and Ninawa provinces that border Syria has enabled Iraqi forces to catch or kill "Islamic State of Iraq and Syria" (ISIS) remnants and block cross-border infiltration attempts, Iraqi officials said.
During a late-April crackdown focused on al-Jazeera region, al-Baaj district south-west of Mosul and villages along the border with Syria, the Ninawa Operations Command arrested 21 ISIS elements.
Among them were two Syrian ISIS leaders, the command said April 24th.
Iraqi forces also uncovered two hidden weapons depots, and seized lists of names of security officers who had been targeted for assassination.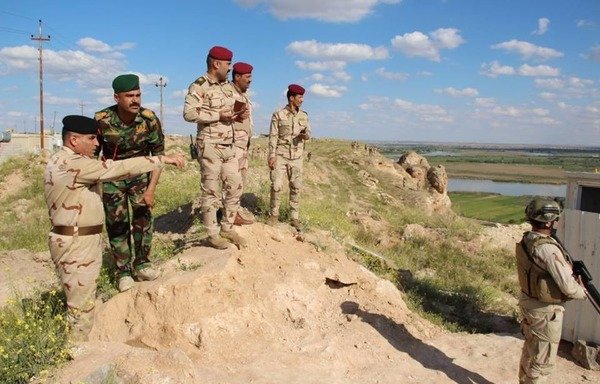 The sweep came after local officials reported ISIS activity in the remote areas of western Ninawa.
"These remnants became active recently and were behind security breaches, including a bombing and the burning of houses in al-Baaj," said Binyan al-Jarba, who serves on Ninawa provincial council's security committee.
The Ninawa Operations Command has pledged to hold to account "anyone who tries to help ISIS elements or facilitate their movements and activities", he said.
"Security forces are continuing their efforts with a high level of capability and effectiveness," al-Jarba said, pointing to the April arrests.
Iraqi forces are prepared to repel any attempt to threaten security, he said, noting that surveillance flights are being conducted over the border areas.
Even so, he added, tougher measures are needed to fortify the Ninawa section of the border strip with Syria.
"We need more surveillance and monitoring technology, the deployment of more units to support the troops stationed there and reinforcement of the guard posts to completely eliminate infiltration by terrorists," he said.
Border security in Anbar
In Anbar province, meanwhile, search operations are continuing in the border area in pursuit of ISIS remnants hiding deep in the desert.
Joint Iraqi forces, supported by international coalition warplanes, completed a sweep of 230 kilometres of land along the Syria border last week, according to the Joint Operations Command.
Twelve underground tunnels and hideouts and three weapons caches were found, and three suspects were arrested during the operation.
Security forces also conducted a series of operations in the border areas in mid-April, which "resulted in the arrest of 30 ISIS remnants and the destruction of five vehicles with terrorists on board in the desert in western Anbar", Anbar provincial council spokesman Eid Ammash told Diyaruna.
Iraqi forces deployed in the border area include the army's 8th Division, Anbar Operations Command, al-Jazeera Operations Command, the provincial police tactical force, tribal mobilisation forces and the Border Guard, he said.
"The border is controlled by all these forces," Ammash added, noting that their presence and vigilance has "made the border areas more secure and the situation stable and under control".
In addition to the deployment of security personnel, he said, the border strip is protected by surveillance cameras, barbed wire, observation points, guard posts and security patrols.
Decrease in ISIS activity
"The activity by [ISIS] remnants in the desert areas adjacent to Syria is on the decline," said Iraqi MP Faleh al-Issawi, who serves on the parliamentary security and defence committee.
Joint forces have secured the border strip with backing from international coalition warplanes, and ISIS elements "no longer have a large presence in the desert", he told Diyaruna.
Security operations are taking place round the clock, he said, with a focus on the areas of al-Husseiniyat, Amej and Mueisher.
Anbar police on April 12th revealed the names of three ISIS suicide bombers killed in a recent operation in al-Husseiniyat: Abu Mustafa al-Hayali, Abu Hajir al-Sinjari and Abu Bashir al-Muhammedi.
Two "dangerous terrorists" who are wanted for trial, named as Riyad Kamil Shatran al-Marawi (Rabadi) and Abdul Salam Muhammed Musallim al-Karbouli, were arrested during the same operation, along with other suspects, he said.
Thanks to the effective security measures in place, "the danger posed by the ISIS remnants has been pushed away from cities", al-Issawi added.