Tahrir al-Sham units have been hunting down "Islamic State of Iraq and Syria" (ISIS) elements in rural parts of the Syrian province of Idlib, a local activist said.
Scattered clashes have broken out between the two extremist groups, concentrated in areas where Tahrir al-Sham conducted raids, activist Haisam al-Idlibi told Diyaruna.
Tahrir al-Sham has been pursuing ISIS elements in the town of al-Dana, where it raided a number of homes in which ISIS elements had taken refuge, he said.
Two ISIS elements blew themselves up during the clashes, which left a number of dead and wounded on both sides, he added.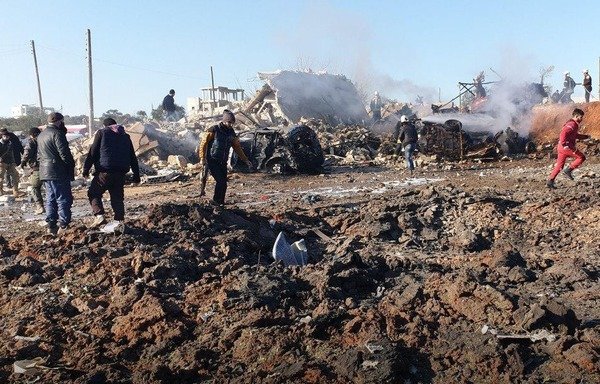 Similar clashes took place in the town of Farwan in eastern Idlib province.
Al-Idlibi said the tension stemmed from a statement issued by Jaish Khalid ibn al-Walid, in which it reiterated its allegiance to ISIS leader Abu Bakr al-Baghdadi.
In its statement, the ISIS affiliate said military operations would continue against rival armed groups in the region it accused of being apostates.
The statement was signed by the Jaish Khalid ibn al-Walid leader Abu Mujahid al-Qalamouni and the emir of ISIS's "Wilayat Idlib".
Jaish Khalid ibn al-Walid has claimed responsibility for several operations targeting Tahrir al-Sham, the Syrian National Army and other groups present in the region, using bombings and improvised explosive devices (IEDs).
Al-Idlibi said the rising tension in Idlib is coupled with rampant lawlessness, with assassinations, robberies, kidnappings and bombings becoming routine.