Since Iraqi authorities classified the "tribal warning" custom as an act of terrorism, the occasionally deadly practice has been in decline, officials said.
Iraq's Supreme Judicial Council on November 8th classified an age-old tribal custom known as Degga Ashairiya (tribal warning) as a terrorist act punishable under the Anti-Terrorism Law No. 13 of 2005.
The move, which is part of wider efforts to restrict the possession of weapons and improve domestic security, imposes penalties that can include life imprisonment or even a death sentence.
The Degga Ashairiya is a custom Iraqi clans have used to mete out justice. Tribal dignitaries bring opposing sides together to resolve a dispute, but if one side fails to attend the meeting, the rival clan will fire on their home.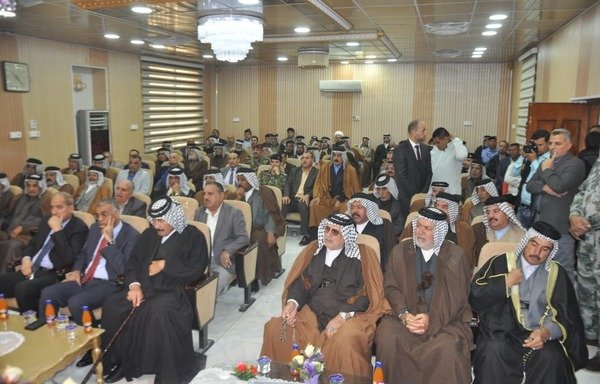 This has led to incidents where dozens of armed tribesmen gather in front of the house of a member of an opposing tribe and spray it with bullets, occasionally with deadly effect.
Iraqi security agencies previously refrained from deterring the "degga", seeing it as a long-established tribal custom and fearing reprisals if it were to be banned.
Since it was classified as an act of terrorism, however, the practice of degga in the tribal province of Dhi Qar has declined by 80% in cities and 20% in rural areas, the province's federal appeals court announced April 19th.
"This decision by the Judicial Council is long overdue," said Dhi Qar provincial council member Abdul Rahman al-Tai, pointing out that classifying the degga as a terrorist act "does not infringe on tribal customs and beliefs".
Most tribal sheikhs support the decision, he told Diyaruna, seeing as the custom had spiraled out of control.
Restricting arms possession
The decision comes "as part of the state's efforts to put an end to the proliferation of weapons in Iraqi society", Anbar provincial council security committee chairman Naeem al-Koud told Diyaruna.
Some people took advantage of leniency of the state to commit illegal acts "under the pretext that they are tribal customs", he said. "This is unacceptable and undermines national security."
Operations commanders in the provinces have new instructions to restrict the possession of weapons, al-Koud said, especially now that security has improved since the defeat of the "Islamic State of Iraq and Syria" (ISIS).
The tribes have played a key role in fighting ISIS and supporting the security forces, he said, "but that does not mean overlooking the task of gun control and preventing weapons from falling into the hands of lawless individuals".
Iraq's anti-terrorism law
Iraq's anti-terrorism law does not specify which acts can be considered terrorist acts, but sets out "general principles that encompass all acts that are intended to terrorize citizens", legal expert Hayyan al-Khayyat told Diyaruna.
In moving to classify the degga as a terrorist act, the Supreme Judicial Council based its decision "on the need to deter acts that threaten the security of citizens and undermine state sovereignty", he said.
In his opinion, al-Khayyat said, this "was an apt interpretation that is in line with the state's keenness to establish security and stability and foster citizens' trust in security agencies".
He called for the possession of weapons to be restricted to those legally licensed to carry them, noting that this would help the judiciary identify and apprehend the perpetrators in the event that a crime is committed.
This would serve as a deterrent to those who take "the opportunity to commit a crime under the guise of affiliation with a tribe or an armed group", he said.