A large-scale plan is underway to rebuild houses destroyed during the war with the "Islamic State of Iraq and Syria" (ISIS) in Mosul's Old City, Ninawa province's crisis cell announced Tuesday (April 23rd).
The crisis cell was formed by Prime Minister Adel Abdul Mehdi to run Ninawa after the sacking of governor Nufal Hammadi last month.
Iraq's parliament voted to remove Hammadi from his post after 100 people died in a ferry disaster that sparked a wave of grief and anger.
"The UN Development Programme (UNDP) has so far completed the reconstruction of 1,000 destroyed homes in the Old City," the cell's media director Ali Mahmoud told Diyaruna.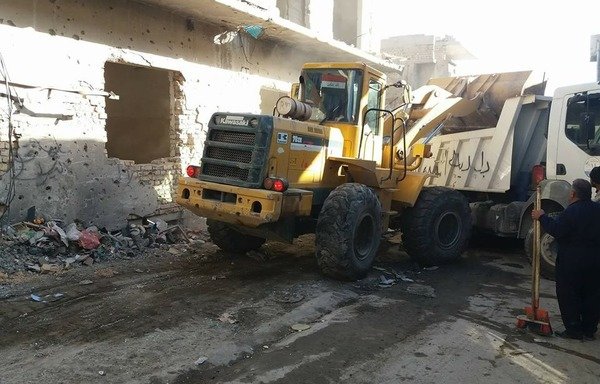 The UNDP, in co-operation with the Mosul municipality directorate and other Ninawa municipalities, has begun the reconstruction of 4,000 destroyed homes in the area, he said.
These efforts are "part of an ambitious plan to build a total of 15,000 houses in the [Old City]", he added.
Authorities anticipate the six-month plan will cover several neighbourhoods, including al-Jame al-Kabir, al-Maidan, al-Zanjili, Ras al-Kour, al-Sheikh Fathi, al-Kawazeen and al-Sarjakhana, he said.
Building these homes "will help thousands of families currently living in camps to return to their original neighbourhoods and to end the displacement crisis that has lasted for more than two years", he said.
Displaced families are distributed among 13 camps mostly located south of Mosul, he said.
These include Daibaka, al-Salamiya and Hammam al-Alil camps, which currently house a total of 150,000 displaced families from Mosul and other Ninawa cities.
Kick-starting reconstruction
The crisis cell has submitted for approval by the Ministry of Planning many projects in different service sectors as part of this year's development plan in Ninawa province, Mahmoud said.
The projects involve rehabilitating infrastructure and public services such as water and electricity networks, roads, bridges, education, health care and social affairs, he said.
Around 626 billion Iraqi dinars ($525 million) have been allocated to support stability and recovery in Ninawa province, the Iraqi government announced on April 16th.
The crisis cell, which is currently in charge of running the province, "is striving to execute all projects and rejuvenate the reconstruction sector", said Mahmoud.
Field teams have been formed to supervise the projects' progress and compile periodic reports on the stages of completion.