Mosul authorities have begun to develop a plan to rebuild the city's old market, local officials told Diyaruna.
While many business owners have rebuilt their shops on their own initiative, others are in need of financial assistance to recover from the "Islamic State of Iraq and Syria" (ISIS) rule and the battles to oust the group, they said.
"We have started working with engineers and technicians to develop a work plan to revitalise the old market," Mosul mayor Zuhair al-Araji told Diyaruna.
The site in the city centre is a key economic hub for Mosul and its environs, with residents making regular trips there to purchase food and goods.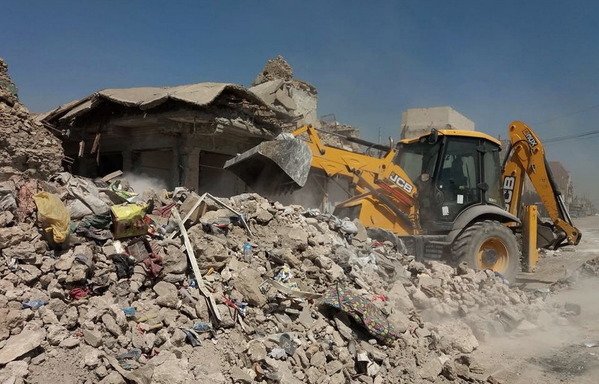 "Our plan involves rebuilding service facilities in the market as well as reconstructing the three main gates that provide access to the market: al-Cornish, al-Qataneen and al-Atareen," he said.
There are plans to build three new gates in the future, he added, noting that designs that reference the city's heritage have been drawn up in anticipation.
"Rehabilitation includes laying asphalt on the narrow side roads in the market in addition to [replacing] cement sidewalks," he said.
There are plans to repair all lighting in the market and to erect a canopy over it to shelter its vendors and shoppers from the sun and from rainfall, he added.
Shopping picks up pace
Local authorities had previously launched several campaigns to clear the market of debris from destroyed buildings, the mayor said.
Water and electricity services have been restored, he said, and merchants have been offered loans to rebuild their shops.
"Several shops and businesses have been rebuilt by their owners, such as bakeries, grocery shops and food and household goods shops," he said.
Monetary compensation granted by the federal government has in some cases helped merchants rebuild their damaged shops and storage facilities, he said.
"Shopping in the market is gradually picking up pace after around 10,000 families returned to the Old City in Mosul over the past five months," he added.
Mosul's old market, which dates back several centuries, comprises a large number of smaller markets grouped according to the merchandise they offer, such as fabrics, stationary, meat, groceries and jewelry.
'Part of Mosul's history'
Ninawa provincial council member Ali Khudair stressed the importance of the local government's interest in rehabilitating the old market "as it is a cultural heritage site, that represents a part of Mosul's history, not to mention its economic significance".
The first steps towards reconstruction have been taken, he told Diyaruna, with construction plans rolled out by consulting agencies, and "efforts are under way to quickly restore the landmark site to a better condition than it was in before".
"Shortly after liberation, shop owners started to repair their shops in the market and they are still working towards that end, within their means," he said.
A government compensation committee has dispersed cash to affected shop-owners in accordance with the level of destruction to their shops, Khudair said.
"However, we call on the government to quickly process a larger number of applicants," he said, as there are thousands awaiting compensation, most of whom have completed applications and have received damage assessments.
The historic market is considered "Mosul's economic and commercial bloodline", said Ninawa provincial council member Hussam Eddin al-Abbar, noting that rebuilding it will revive the entire city.
International donors have "provided support for the reconstruction of 5,000 houses in Mosul's Old City and the supplying of drinking water, sanitation and electricity services in those neighbourhoods", he told Diyaruna.
"We now call on them to contribute towards helping citizens rebuild their shops and to take part in rebuilding the old market and other damaged facilities," he said.