Remote recreational sites in western Anbar's al-Rutba district are seeing a resurgence of tourist activity after they have been secured from the threat of "Islamic State of Iraq and Syria" (ISIS) remnants.
Just a few years ago, it was not possible for visitors to frequent natural lakes and sites in al-Rutba for fear of ISIS presence.
But today, after securing these locations, a large numbers of families could be seen travelling to the district's lakes to enjoy the spring weather.
Hassan al-Kubaisi, 44, enjoyed a picnic outing with his family at the Abila lake and dam in northern al-Rutba.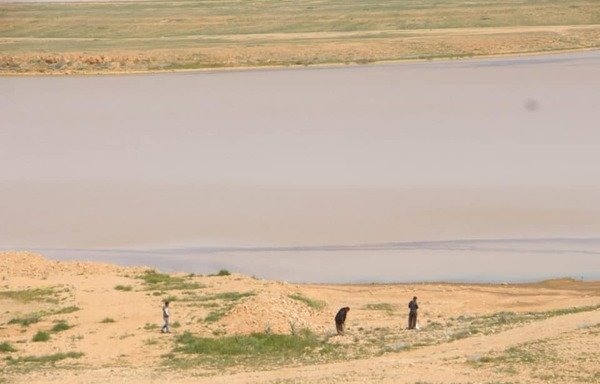 Abila has become a popular recreational destination for Iraqis after al-Rutba was liberated from ISIS.
Al-Kubaisi told Diyaruna that for too long, "families were deprived of enjoying this natural landscape".
"The place was too dangerous and no one would risk coming here as they would be easy prey to terrorists who could emerge at any time," he said.
"Now, things have completely changed," he said. "[Iraqi] forces have secured the area and we are once again able to vacation with our families and have an enjoyable time."
Anbar rich in natural landmarks
"The Abila lake and dam is one of many tourist destinations in al-Rutba district," al-Rutba mayor Imad al-Dulaimi told Diyaruna.
The site is now "largely secured and is being protected by security forces", he said, adding that families can head there without fear for their safety.
"Soldiers from the 1st Army Division and the Anbar Operations Command are deployed throughout the area to provide a safe environment for civilians and during school trips," he said.
People are visiting in droves, happy to be able to return to this natural landmark, said al-Dulaimi.
Other recreational sites include the Houran lake and dam, located 20 kilometres to the west of al-Rutba, he said, "but security risks are still present there and it remains off limits for civilians".
Al-Faidha dam and al-Ghizlan desert are also tourist destinations in the district, he said, noting that the local administration has "raised recommendations to the government to open the door for investment in that area".
Discussions are underway between the Anbar Investment Authority and the National Tourism Authority to list these sites as investment opportunities in the tourism sector after security there is fully established, al-Dulaimi said.
Iraqi forces, residents co-operation
"Soldiers today are rejoicing with the local population and there is a general climate of appreciation of efforts to secure these leisure sites," said Iraqi Ministry of Defence spokesman Maj. Gen. Tahseen al-Khafaji.
"Our forces are hunting down terrorists everywhere and have succeeded in eliminating their threat," he said, noting that operations in al-Rutba district to target ISIS remnants "are going strong".
Local residents and security forces are working together to thwart terrorist plans, he said, noting that Anbar province has many natural and tourist sites.
"Not only do we have the responsibility to make sure that families can visit these sites safely, but we also want to send a message that these areas are now [safe for investment]," he said.
The return of al-Rutba's lakes as popular recreational sites in an indication of the stability that Anbar province enjoys now, provincial council security committee member Shallal Naji Obeid told Diyaruna.
"This development is cause for joy and optimism," he said, especially that ISIS elements used to be rampant in these remote areas.
Now, however, security forces have a firm grip on the security situation after defeating ISIS's remnants, he said.
Anbar province "is once again a tourist destination for Iraqi families from other provinces", he said, noting that it is important to revive this sector since it is a key source of revenue and development.
The province "is on the path to quickly shed the effects of terrorism and is heading towards reconstruction and stability", he added.