Iraqi security experts and officials who spoke with Diyaruna have warned that draft laws calling for the withdrawal of foreign troops from Iraq could have negative consequences for the security of the country and region.
Two pro-Iran parliamentary blocs have produced draft laws calling for the withdrawal of foreign troops, each setting a timetable for the withdrawal.
This legislation would apply to an estimated 5,200 US troops stationed in Iraq under an agreement with the Iraqi government to advise, assist and support Iraqi forces in the fight against the "Islamic State of Iraq and Syria" (ISIS).
If they are approved by the Iraqi parliament, the draft laws would serve to weaken Iraq, isolate it from the international community and enhance the Iranian regime's influence in the region, the security experts said.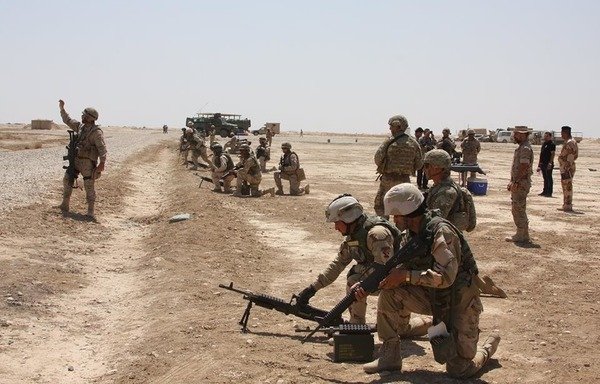 The proposed legislation has created a "sharp divide" between Iraqi political forces that back the measure and those that reject it, al-Mustansiriya University professor of political science Essam al-Faily told Diyaruna.
"A third camp believes that the withdrawal of foreign troops should not apply only to international coalition forces but also Iranian advisers, troops and personnel who have an ambiguous presence in Iraq," he said.
Opposition to the draft laws
Al-Faily said he stands with the opponents of the draft law as "coalition soldiers are not combat forces on the ground in the real sense, but rather trainers and experts stationed at military bases and assigned to perform specific tasks".
These tasks are related to "training our soldiers and upgrading their combat capabilities, and also assisting in intelligence co-ordination and aerial targeting of terrorist cells, which still pose a threat", he said.
At a central control centre in the area of Baghdad International Airport, international military experts are working with Iraqi experts to track down ISIS remnants and thwart their activities, he said.
"We have a strong need for the coalition, and the US in particular, because they provided us with $4.5 billion worth of advanced aircraft, in addition to about 185 Abrams tanks, as well as technical equipment," al-Faily said.
"We need coalition experts to maintain and update this equipment," he added.
Al-Faily stressed that a decision to withdraw foreign forces carries other consequences, noting that "these forces may not return to support us militarily if our security comes under threat again".
The consequences are not limited to security concerns, he pointed out, as "international support for the reconstruction of our country and overcoming the consequences of the war also may be affected".
Iran wants to fill the security vacuum after the coalition leaves to consolidate its presence and influence in Iraq "to circumvent the political and economic pressures exerted on it by the international community", he said.
But this influence will only fuel conflict in the region "and put Iraq in the eye of the storm", he added, noting that "all political forces must grasp the severity of those consequences before making any decision to support the withdrawal".
External pressure from Iran
Iran is exerting pressure on Iraq through its allies in the Binaa Coalition parliamentary bloc to force parliamentary forces that oppose the draft laws to agree to them, strategy and military analyst Rabie al-Jawary told Diyaruna.
The proposed laws are "not in any way in Iraq's interest" but rather serve the Iranian regime, which seeks to make Iraq dependent on Iran and isolate it from the rest of the world, he said.
"The withdrawal serves Iran's strategy to control Iraq and expand towards Syria and Lebanon and ultimately the Mediterranean Sea, and toward the Gulf states and Yemen," he said.
"Iraqis have become quite aware of the Iranians' real objectives, and the popular protests that erupted in Basra province last year and torching of the Iranian consulate there is clear evidence of that," al-Jawary said.
"The Iraqi people today do not want politicians to be preoccupied with the issue of the withdrawal of foreign forces, but rather to turn their attention to tackling the issues the country has been grappling with for years," he said.
These include the deterioration of services and widespread corruption that has eroded their wealth and given terrorists a foothold in the country, he said.
'A grave risk' to security
Taking steps towards demanding that international coalition countries withdraw their advisers from Iraq carries "a grave risk", Ninawa provincial council security committee Mahmoud al-Jubouri told Diyaruna.
Al-Jubouri said he witnessed firsthand many of the military operations against ISIS, noting that many were victorious thanks to the international coalition.
These included operations to eliminate ISIS remnants in Tigris river islands near Mosul, he said, where "our soldiers tried to storm more than once to no avail until coalition aircraft decided the battle".
These areas are now "free of terrorist activity and safe", he noted.